Reading Groups
BookPage named The Immortal Life a Top Pick for Book Clubs, calling it "a deeply intimate look at one family's efforts to claim its legacy." According to Bookmovement.com, The Immortal Life is consistently in the top 10 book club picks of 2011. The Immortal Life was selected for the first non-fiction edition of The Atlantic's 1book140 reading club. Hundreds of book groups worldwide have read The Immortal Life with wonderful results — below you will find information and resources designed to enhance your group's discussion of The Immortal Life of Henrietta Lacks.
Resources
---
Join the conversation
Has your reading group discussed The Immortal Life? We want to hear from you! Read what other groups have been saying about The Immortal Life of Henrietta Lacks, and join the conversation.
"We are the Bookies of Howard County, Maryland. Your book touched us deeply. You made us feel for Henrietta and all of her family. We still can't figure out why Johns Hopkins hasn't given all of Henrietta's heirs free medical care for life. Someone should! What a story! We were also moved by your dedication and by the inspiration you had at such a young age. Clearly, this story moved you as well. Henrietta spoke to you. Thank you for telling this amazing story. We hope our collective donations will help the scholarship fund to grow." —The Bookies of Howard County
"We read and thoroughly enjoyed learning about the remarkable contribution this woman has made to our collective scientific advancement. At the end of our book discussion this week, we passed the hat. It is disgraceful that Mrs. Lacks's family is so impoverished while others are making millions from her tissue cells. We hope the next generation of Lackses fares better than her children. Kudos to Rebecca Skloot for telling this extraordinary story to the world." —The Rhode Island Book Club
---
Share your group's experiences at the HeLa Forum →
Talk to other enthusiastic readers about the book on these social networks:
Named by more than 60 critics as one of the best books of 2010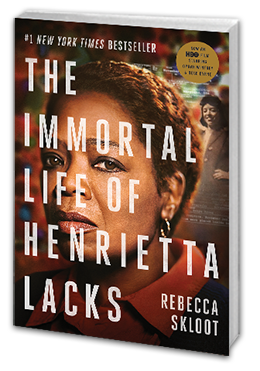 Buy the Book
Learn More
The Henrietta Lacks Foundation strives to provide financial assistance to needy individuals who have made important contributions to scientific research without their knowledge or consent.