Privacy Policy
RebeccaSkloot.com has adopted a set of information management guidelines, which serve as the basis for our customer and advertiser relationships. These guidelines disclose the privacy policies for our Web site. These guidelines have been developed with the recognition that Internet technologies are rapidly evolving, and that underlying business models are still not established. Accordingly, guidelines are subject to change. Any such changes will be posted on this page.
RebeccaSkloot.com is not responsible for the content or the privacy policies of Web sites to which it may link.
What information does RebeccaSkloot.com gather and/or track about you?
Anonymous Information. RebeccaSkloot.com may also gather anonymous information, which may be used by RebeccaSkloot.com or shared with third parties. This is information which does not personally identify you, but which may be helpful for marketing purposes or for improving the services we offer. Generally this information is collected through "traffic data" and may entail the use of "cookies," "IP addresses," or other numeric codes used to identify a computer.
Cookies. RebeccaSkloot.com employs cookies to recognize you and your access privileges on the Web site, as well as to track site usage. Subscribers who do not accept cookies from the domain (e.g. "RebeccaSkloot.com") may have limited access to areas of RebeccaSkloot.com Web site. We may use an advertising server developed by a third party to display ads on our site. Some of these ads may contain cookies that are set by third parties (i.e., advertising agencies or advertising clients). We do not have access to these cookies or any information that they may contain. Acceptance of cookies from domains other than RebeccaSkloot.com is optional.
IP Addresses. RebeccaSkloot.com also logs IP addresses for systems administration and troubleshooting purposes. (Your IP address indicates the location of your computer on the Internet). We do not log IP addresses to track your session, nor do we link IP addresses to anything personally identifiable.
Credit Card Information. If you use a credit card to pay for a RebeccaSkloot.com service, it will be used one time only to fulfill one order, and RebeccaSkloot.com will not store your credit card information.
What does RebeccaSkloot.com do with the information it gathers and/or tracks?
Statistical Analysis and Banner Advertising. RebeccaSkloot.com may perform statistical analyses of user behavior in order to measure interest in the various areas of our site (for product development purposes) and to inform advertisers as to how many consumers have seen or "clicked" their advertising banners. RebeccaSkloot.com also uses demographic information to allow advertising banners on our Web site to be targeted, in aggregate, to the readers for whom they are most pertinent. This means that readers see advertising that is most likely to interest them, and advertisers send their messages to people who are most likely to be receptive, improving both the viewer's experience and the effectiveness of the ads. In this statistical analysis and banner advertisement targeting, we will disclose information to third parties only in aggregate form. Personal information about you as an individual subscriber or registrant will not be provided to any third party, except when we have your permission or under special circumstances, as described in our Terms and Conditions of Use.
Email. Using the email addresses provided at registration, RebeccaSkloot.com periodically sends promotional email to its subscribers about services offered by RebeccaSkloot.com and its advertisers. RebeccaSkloot.com may contact you regarding account status, changes to the subscriber agreement, and to confirm registration.
Occasionally, RebeccaSkloot.com shares data collected about subscribers with other units within the RebeccaSkloot.com group of companies or third parties whose products or services we feel may be of interest to you. Many of our subscribers find these mail or email promotions valuable, whether they are shopping for merchandise, taking advantage of a special offer or purchasing unique services. If you prefer not to receive promotional materials from companies outside the RebeccaSkloot.com group of companies, please see the "Opting Out" provision below.
With whom does RebeccaSkloot.com share the information it gathers and/or tracks?
RebeccaSkloot.com shares the information it gathers, in aggregate form, with advertisers and other partners. We do not release personal information about you as an individual to third parties, except when we have your permission or under special circumstances, as described in our Terms and Conditions of Use. RebeccaSkloot.com will provide you all of your personal information provided at registration upon request. This information will only be sent to the email address on file for the subscriber ID associated with it.
Discussion Groups. RebeccaSkloot.com Web site offers a variety of discussion groups, comment sections, chat areas, bulletin boards, and message boards (collectively, boards). These boards are freely accessible to anyone. These guidelines do not cover the transfer of information in this context. Any information you disclose when posting a message in a board becomes public. Moreover, users who post messages in a board make their email addresses available to others, which could result in unsolicited email from other users or third parties. You should always be careful when distributing your personal information in this manner. If you choose to participate or post messages in RebeccaSkloot.com boards, we will collect such information about you as you choose to disclose.
The boards may be used only for noncommercial purposes. You may not post any material concerning promotion, advertising or solicitation for goods or services. From time to time the boards may be monitored by RebeccaSkloot.com in order to maintain professional decorum and to prevent prohibited uses of the boards. RebeccaSkloot.com reserves the right to remove any material, message or discussion thread that is, in the sole judgment of RebeccaSkloot.com, inappropriate. For more information about the boards, please review our Terms and Conditions of Use or contact RebeccaSkloot.com by email.
Opting-Out, Corrections and Cancellations.
Upon request, RebeccaSkloot.com will: (a) remove you and your personal information from our database, thereby canceling your registration; (b) correct personal information that you state is erroneous; or (c) permit you to "opt out" of further email contact (except notification of major changes to the service) while still allowing access to the site. To request a correction or cancellation, contact us at info@RebeccaSkloot.com.
Named by more than 60 critics as one of the best books of 2010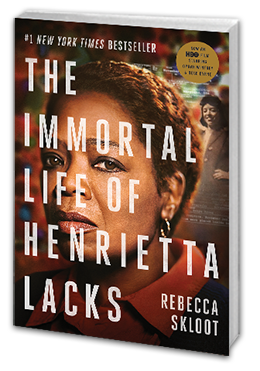 Buy the Book
Learn More
The Henrietta Lacks Foundation strives to provide financial assistance to needy individuals who have made important contributions to scientific research without their knowledge or consent.