Articles About Rebecca
Rebecca Skloot has been interviewed and profiled by many leading publications, including the Wall Street Journal, the Los Angeles Times, and the New York Times. Skloot has also appeared on numerous radio and television shows, including Fresh Air with Terry Gross, Michael Feldman's Whad'Ya Know?, Fox Business News, and The Colbert Report. For many of those interviews and press coverage of The Immortal Life of Henrietta Lacks, visit the book's press page. Below, a selection of press coverage about Rebecca Skloot herself.
Rebecca Skloot discusses her writing process, the challenges she faced in telling Henrietta Lacks' story, the importance of science writing, and more in an informative Q&A during the 2010 Texas Book Festival. You can hear more from her about the importance of science writing in this Discussion With E.O. Wilson and Rebecca Skloot from the Chicago Humanities Festival.
The New York Times coverage of Skloot's efforts as founder of the Henrietta Lacks Foundation: "Returning the Blessings of an Immortal Life."
Publishers Weekly profile: "Rebecca Skloot Found a Story of Immortality and Faith in a Young Woman's Tissue Sample."
Los Angeles Times profile of Skloot, and the making of The Immortal Life of Henrietta Lacks: "Henrietta Lacks's Immortal Roots."
Booklist profile of Rebecca Skloot: "Story Behind the Story."
The Wall Street Journal interviews Skloot: "Recounting an Untold Story."
The Washington Post named Rebecca Skloot as one of its Five Surprising Leaders of 2010.
A profile of Skloot and story of the making of The Immortal Life of Henrietta Lacks: "For Rebecca Skloot, Community College Assignment Evolves into Exhaustively Researched Book."
"Librarians: The Secret to Narrative History," an essay by Skloot in Library Journal, about the ways in which librarians helped make it possible to write her book.
Skloot discusses her expectations for The Immortal Life and how she developed the book's structure (complete with photos of the index-card story board she used to organize the book), in this interview with Nieman Storyboard, from the Nieman Foundation at Harvard.
"The Immortal Book Tour," a story by Skloot about the grassroots book tour she organized (more info here).
Named by more than 60 critics as one of the best books of 2010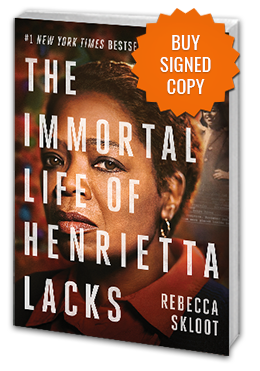 Buy the Book
Learn More
The Henrietta Lacks Foundation strives to provide financial assistance to needy individuals who have made important contributions to scientific research without their knowledge or consent.