Contact
Use the form below for media inquiries, film rights, speaking engagements and to get in touch with Rebecca. Please visit the Frequently Asked Questions page of this website to see if your query is answered there.
If you would like to send mail to Rebecca via the postal service, you can address it to:
Rebecca Skloot, c/o Simon Lipskar, Writers House, 21 W. 26th Street, New York, NY 10010.
To Keep Up with Rebecca Skloot and Her Work:
To Keep Up with the Lacks Family:
Visit the Lacks Family's website and blog, designed by Henrietta's grandson David Lacks
Follow the Lacks Family on Facebook
Follow the Lacks Family on Twitter
---
Media Kit
If you are a member of the press looking for a media kit, click here.
---
Want to share your story?
Join the conversation on the Hela forum →
---
Contact Form
Named by more than 60 critics as one of the best books of 2010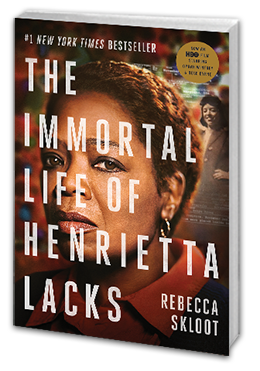 Buy the Book
Learn More
The Henrietta Lacks Foundation strives to provide financial assistance to needy individuals who have made important contributions to scientific research without their knowledge or consent.