Archives by Date:
Archives by Subject:
July 26, 2011
UK Publisher of The Immortal Life Shares Story of UK Cover Design
The Immortal Life of Henrietta Lacks is being translated into more than twenty-five languages. Each international edition has its own unique cover, and we've gathered many of them on the new Translated Editions page of Rebecca Skloot's website. We invite you to check out the various cover treatments – it's fascinating to see different designs created by publishers from all over the world.
Here's a behind-the-scenes look at how two of those international covers came together – from Jon Butler, Publisher of Macmillan Non-Fiction:
Both the UK hardback and paperback of The Immortal Life depended strongly on what first drew me to the book as an editor: The lost story of an extraordinary woman.

In that sense, my objective was to make both editions almost have the feel of a detective story, with a strong sense of time and place. Who is this woman? Why is she important to all of us?

To give a sense of 1950s America, we commissioned an incredibly talented typographer called Stephen Raw to create customized lettering for the title. That lettering, which appeared on both UK editions, very cleverly hints at 1950s book jackets, but also has a very human, hand-cut feel; it shows that the book has warmth, and soul.

For the paperback, our head of design, James Annal, came up with the smart idea of making the whole cover a literal 'whodunnit?' (or even, 'whoisit?'): a silhouette of a woman in profile. It's graphically very pleasing, but also captures so much of the book's essence, I think: of absence and obscurity, and lost voices – of loss, full stop. The book has such a beautiful title that with this image, we hope that a reader can't help but pick the book up and ask: who is Henrietta Lacks? Rebecca's writing does the rest….
Named by more than 60 critics as one of the best books of 2010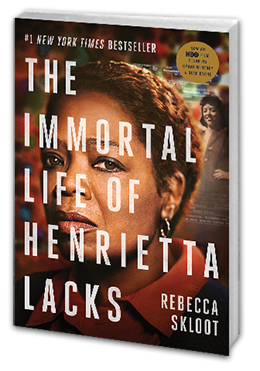 Buy the Book
Learn More
The Henrietta Lacks Foundation strives to provide financial assistance to needy individuals who have made important contributions to scientific research without their knowledge or consent.