Archives by Date:
Archives by Subject:
May 23, 2011
Henrietta Lacks Given Posthumous Honorary Degree by Morgan State University
Dr. Henrietta Lacks — a fitting tribute to Henrietta's profound contributions to medical research: Henrietta Lacks was just honored with a posthumous degree by Baltimore's Morgan State University.
Listen to this great All Things Considered segment on her posthumous award, and hear her son, David "Sonny" Lacks Jr, accept the award and speak on her behalf.
Dr. Burney Hollis, a dean at Morgan State University, said this about Henrietta at the ceremony:
She has attained a level and kind of immortality unreached by any other person in human history. Though she never knew of her largesse and never consented to being a laboratory experiment, her cancer cells became the foundation for advancements in the treatment of mankind's most challenging forms of human affliction and suffering.
A bit about Morgan State and its current president:
On May 21, Morgan State University celebrated its 135th commencement exercise with more than 1,200 degree recipients. This year's commencement speaker was Dr. Ruth Simmons, president of Brown University. Dr. Simmons is the first female president in the 247-year history of the institution, and is the first African-American to serve as president of an Ivy League institution. Dr. Simmons joined Baltimore philanthropist Eddie C. Brown and Henrietta Lacks as honorary degree recipients.

Founded in 1867 as the Centenary Biblical Institute by the Baltimore Conference of the Methodist Episcopal Church, the institution's original mission was to train young men in ministry. It subsequently broadened its mission to educate both men and women as teachers. From its beginnings as a public campus, Morgan was open to students of all races.
Named by more than 60 critics as one of the best books of 2010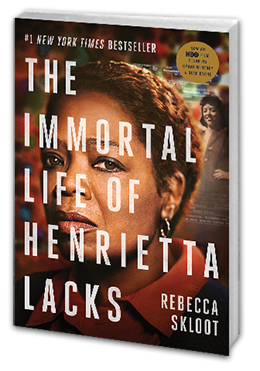 Buy the Book
Learn More
The Henrietta Lacks Foundation strives to provide financial assistance to needy individuals who have made important contributions to scientific research without their knowledge or consent.