Archives by Date:
Archives by Subject:
July 1, 2010
NPR Names The Immortal Life of Henrietta Lacks as one of the Top Five Best of the Bestsellers
NPR has just named The Immortal Life of Henrietta Lacks as one of the top five Best of the Bestsellers (the only nonfiction book in the top five), saying:
The explosive ingredients in this nonfiction book — a scientific thriller, an untold family story, an exploration of race and class — add up to riveting social commentary. Released in February, the book (which is slated to be an Oprah-produced HBO film) remains one of 2010's most-talked-about titles. Skloot's dramatic narrative follows three tracks. The first traces the life of Henrietta Lacks, the great-great-granddaughter of slaves, who died in 1951 from aggressive cervical cancer, leaving behind a husband and five children. Skloot parallels that with the story of the cells (codename: HeLa) drawn from Lacks' tumor, which became the world's first "immortal" human cells cultivated in a laboratory. The writer's third narrative thread weaves in her own relationship with Lacks' children in the years after they find out about the highly lucrative medical uses of their mother's cells (which were taken without her permission). In a final act of authorial grace, Skloot is donating a portion of the book's proceeds to the nonprofit foundation she set up to provide scholarships and medical coverage to Lacks' descendants.  (Full story online here)
Named by more than 60 critics as one of the best books of 2010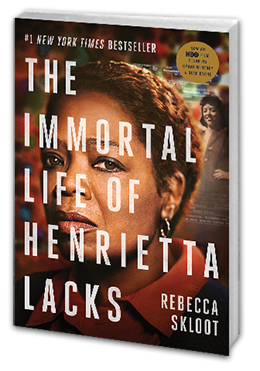 Buy the Book
Learn More
The Henrietta Lacks Foundation strives to provide financial assistance to needy individuals who have made important contributions to scientific research without their knowledge or consent.