Archives by Date:
Archives by Subject:
July 7, 2010
Culture Dish Doesn't Live at ScienceBlogs Anymore
As I said yesterday on Twitter, a big conflict of interest and transparency problem has arisen on ScienceBlogs. Like several other bloggers at ScienceBlogs, I'm now on a hiatus, however like like David Dobb's, Blake Stacy's, and others, my hiatus from ScienceBlogs will be permanent. I've been contemplating moving my blog from ScienceBlogs to my own site for a while for several reasons, but PepsiGate has sealed the deal for me. Several of my ScienceBlogs colleagues summed up the situation well, including PZ Myers, GrrlScientist, and Brian over at Laelaps. For a full recap of the issue and other ScienceBloggers' responses, see this post from today's Guardian. For a clear explanation of the ethical problems that make it so I will no longer be affiliated with Science Blogs, see this from the Knight Journalism Tracker: "ScienceBlogs Trashes its Bloggers' Credibility." I'm now looking for a permanent new home for my blog.  In the meantime, you can follow me on Twitter and Facebook and via this blog which has been moved to my personal website.
UPDATE: The Guardian has just posted this letter sent to all ScienceBlogs bloggers today by  Adam Bly, head of Seed Media Group and ScienceBlogs.
Update 2: See the Knight Journalism Tracker's response to Adam Bly's email linked above.
Update 3: ScienceBloggers have just received a note from Adam Bly saying that in response to all of this, ScienceBlogs has begun making changes to the Pepsi blog, including adding a statement about conflict of interest and funding, adding a banner labeling it as "Advertorial."
12 Responses to "Culture Dish Doesn't Live at ScienceBlogs Anymore"
Named by more than 60 critics as one of the best books of 2010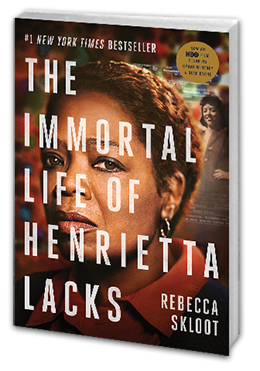 Buy the Book
Learn More
The Henrietta Lacks Foundation strives to provide financial assistance to needy individuals who have made important contributions to scientific research without their knowledge or consent.