Archives by Date:
Archives by Subject:
May 29, 2010
Radiolab Episode Based On Immortal Life of Henrietta Lacks Features Audio From Skloot's Research Tapes, & More
Radiolab just aired a beautiful piece based on Immortal Life of Henrietta Lacks — a must-listen for all who've read the book, and anyone interested in it. This is the only media that includes Deborah Lacks talking about her mother's cells, as well as audio footage from Rebecca Skloot's research tapes. Listen to recordings of key scenes from the book, such as Deborah seeing her mother's cells for the first time, and the faith healing performed on her by Gary Lacks. To hear it, click play below or visit Radiolab's site here.
*SPOILER ALERT* For those who have not finished reading the book, the last minute of this show contains information that some might wish to not hear until they've read the end of the book. To avoid hearing it, simply press stop after deborah says to her mother's cells, "You're famous, just nobody knows it."
Named by more than 60 critics as one of the best books of 2010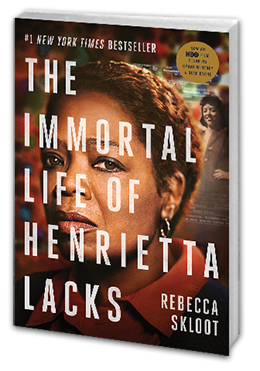 Buy the Book
Learn More
The Henrietta Lacks Foundation strives to provide financial assistance to needy individuals who have made important contributions to scientific research without their knowledge or consent.