Archives by Date:
Archives by Subject:
January 6, 2010
Barnes and Noble Anxiously Awaits The Immortal Life of Henrietta Lacks
Today the Barnes and Noble Review posted "20 Books We're Waiting For" in 2010, and The Immortal Life of Henrietta Lacks was on it, with this nice write up:
Despite the fact that she has been dead for more than six decades, Henrietta Lacks, a poor tobacco farmer who worked the same land as her slave forebears, continues to make an unparalleled contribution to scientific research through her "immortal" cells (known to scientists as HeLa cells) — the first human cells grown in culture. In this extraordinary account — I've peeked, and couldn't put it down — Rebecca Skloot tells the story of this unheralded woman and her unsuspecting but enduring role in the advancement of modern medicine. February 2.
Named by more than 60 critics as one of the best books of 2010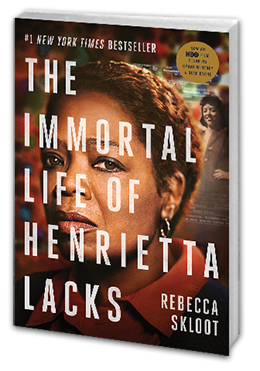 Buy the Book
Learn More
The Henrietta Lacks Foundation strives to provide financial assistance to needy individuals who have made important contributions to scientific research without their knowledge or consent.