Archives by Date:
Archives by Subject:
December 23, 2009
The Immortal Life of Henrietta Lacks in Library Journal
The current issue of Library Journal features two pieces about The Immortal Life of Henrietta Lacks:  First, an essay by Skloot called "Librarians: The Secret to Narrative History," about the essential role librarians played in helping her write the book, and second, this starred review:
Skloot, Rebecca. The Immortal Life of Henrietta Lacks. Crown. Feb. 2010. c.320p. ISBN 978-1-4000-5217-2. $26. SCI
This distinctive work skillfully puts a human face on the bioethical questions surrounding the HeLa cell line. Henrietta Lacks, an African American mother of five, was undergoing treatment for cancer at Johns Hopkins University in 1951 when tissue samples were removed without her knowledge or permission and used to create HeLa, the first "immortal" cell line. HeLa has been sold around the world and used in countless medical research applications, including the development of the polio vaccine. Science writer Skloot, who worked on this book for ten years, entwines Lacks's biography, the development of the HeLa cell line, and her own story of building a relationship with Lacks's children. Full of dialog and vivid detail, this reads like a novel, but the science behind the story is also deftly handled. VERDICT … Highly recommended. [See Skloot's essay, p. 126; Prepub Alert, LJ 11/1/09.]—Carla Lee, Univ. of Virginia Lib., Charlottesville
Named by more than 60 critics as one of the best books of 2010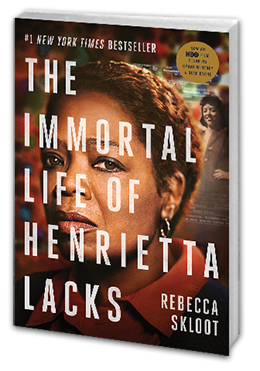 Buy the Book
Learn More
The Henrietta Lacks Foundation strives to provide financial assistance to needy individuals who have made important contributions to scientific research without their knowledge or consent.