Archives by Date:
Archives by Subject:
November 29, 2009
The Immortal Life of Henrietta Lacks in Booklist
The Immortal Life of Henrietta Lacks is featured in the December issue of Booklist, with a wonderful starred review (see below) and "Story Behind the Story: Rebecca Skloot's Immortal Life of Henrietta Lacks," a profile of Skloot that tells some of the amazing story behind writing her forthcoming book, which Booklist says this about:
The "first immortal human cells," code-named HeLa, have flourished by the trillions in labs all around the world for more than five decades, making possible the polio vaccine, chemotherapy, and many more crucial discoveries. But where did the HeLa cells come from? Science journalist Skloot spent 10 years arduously researching the complex, tragic, and profoundly revealing story of Henrietta Lacks, a 31-year-old African American mother of five who came to Johns Hopkins with cervical cancer in 1951, and from whom tumor samples were taken without her knowledge or that of her family. Henrietta died a cruel death and was all but forgotten, while her miraculous cells live on, "growing with mythological intensity." Skloot travels to tiny Clover, Virginia; learns that Henrietta's family tree embraces black and white branches; becomes close to Henrietta's daughter, Deborah; and discovers that although the HeLa cells have improved countless lives, they have also engendered a legacy of pain, a litany of injustices, and a constellation of mysteries. Writing with a novelist's artistry, a biologist's expertise, and the zeal of an investigative reporter, Skloot tells a truly astonishing story of racism and poverty, science and conscience, spirituality and family driven by a galvanizing inquiry into the sanctity of the body and the very nature of the life force. — Donna Seaman, Booklist (Starred review)
Named by more than 60 critics as one of the best books of 2010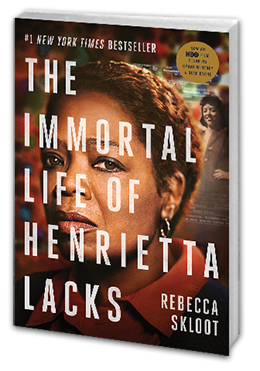 Buy the Book
Learn More
The Henrietta Lacks Foundation strives to provide financial assistance to needy individuals who have made important contributions to scientific research without their knowledge or consent.