Archives by Date:
Archives by Subject:
September 15, 2009
Not Dead Yet …
Yes, that's right, we here at Culture Dish are actually STILL ALIVE! Though you wouldn't know it from our feed. <brushing off cobwebs> … After a bit of down time, Culture Dish is back. The last several months have been jam packed with pre-publication craziness with my book, The Immortal Life of Henrietta Lacks, which is coming to a bookstore near you on February 9th (and is already available for preorder on amazon!). In coming weeks and months, I'll be posting about the publication process, doing some give-aways of pre-publication galleys of the book, and more. I'll also be blogging some about the fact checking process for the book, which is quite an experience — my living room has been a fact checking factory for months (see photo). And of course, I'll blog about usual non-book related stuff too. Just bare with my, uh, irregularity for the next few weeks as I finish up all the craziness.


Also: Much to my chagrin, I had to turn comment moderation on for the blog a while ago because I was hit with all kinds of spambots that kept finding ways around any blocks I'd put up. If any of you SB whizzes out there know how to stop the evil spambots so I can turn moderation back off, I'd love to hear about it.
4 Responses to "Not Dead Yet …"
Named by more than 60 critics as one of the best books of 2010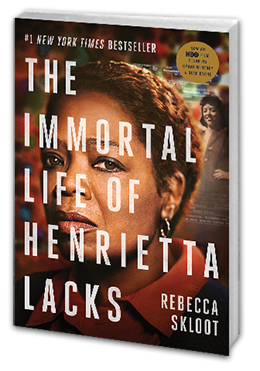 Buy the Book
Learn More
The Henrietta Lacks Foundation strives to provide financial assistance to needy individuals who have made important contributions to scientific research without their knowledge or consent.