Archives by Date:
Archives by Subject:
January 6, 2009
Newsflash! DOJ ADA Changes Leaked — All Animals Set to Be Banned Except Dogs
NEWSFLASH: In this weekend's New York Times Magazine, I reported that the Department of Justice had proposed a ban on guide miniature horses, service monkeys, and other non-canine assistance animals (brief overview of the story and legal issues here, several follow up posts here). In my story, I mentioned that no one knew whether the DOJ had removed the species ban from their proposal after the public hearings this summer.
I just got a leaked version of the latest DOJ regulations, and the agency has in fact made the species ban more restrictive. The DOJ's initial proposal would have allowed cats and other commonly domesticated animals (perhaps including parrots like the one I reported on in my story who helps a man with his bipolar disorder by talking him down from psychotic episodes). But the current version (which the DOJ approved on 12/3 and is now pending final approval by the OMB), restricts assistance animals to only dogs. The DOJ's new proposed service animal definition is:
"any dog that is individually trained to do work or perform tasks for the benefit of an individual with a disability, including a physical, sensory, psychiatric, intellectual, or other mental disability. Other species of animals, whether wild or domestic, trained or untrained, cannot be service animals."
It does include a special provision for miniature horses (but no other species) saying business must make:
"reasonable modifications in policies, practices and procedures to permit the use of a miniature horse by an individual with a disability, if the miniature horse has been individually trained to do work or perform tasks for the benefit of the individual with a disability, unless the public accommodation can demonstrate that making the modifications would fundamentally alter the nature of the public accommodation's goods, services, facilities, privileges, advantages, or accommodations."
But in the end, it says, "The miniature horse is not included in the definition of service animal, which is limited to dogs." This strips their users of all legal rights associated with service animal use. It's unclear whether this means users who live in areas that don't allow livestock within city limits (which = most of them), will have to give up their guide horses because they're no longer considered service animals. The big question now is whether there will be another revision, or whether this regulation will be approved before January 20th, when Obama takes office.
Many readers have asked who they can contact to speak out about this regulation, since the final proposal is still awaiting approval. Those interested can contact their government representatives and state senators. Also the Department of Justice here [update: apparently the DOJ isn't taking comments or documenting calls about this] and the OMB here. (Update for those who've asked: The relevant way to reference this issue is by saying you're contacting them about the DOJ's pending ADA regulations that would ban the use of any species other than dogs as service animals. The exact regulation in question is "Title III Regulation 28 CFR Part 36: Nondiscrimination on the Basis of Disability by Public Accommodations and in Commercial Facilities."
Update: The leaked document says "For further information contact Janet L. Blizard, Deputy Chief, Disability Rights Section, Civil Rights Division, U.S. Department of Justice, at (202) 307-0663." [See above: the DOJ is not taking calls on this issue]
[Update: For those interested, I've posted the full details of the DOJ's decision and rationale here.]
Further update: The Obama administration has pulled these proposed DOJ changes. Information here. This means the case is no longer closed, so you can once again contact the DOJ about it
46 Responses to "Newsflash! DOJ ADA Changes Leaked — All Animals Set to Be Banned Except Dogs"
Named by more than 60 critics as one of the best books of 2010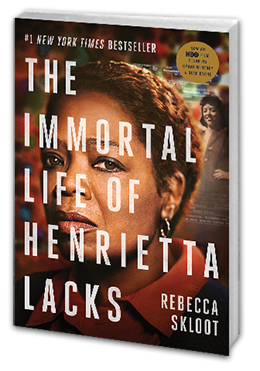 Buy the Book
Learn More
The Henrietta Lacks Foundation strives to provide financial assistance to needy individuals who have made important contributions to scientific research without their knowledge or consent.