Archives by Date:
Archives by Subject:
January 15, 2009
Famous Six Degrees of Separation Study a Fraud?
Every time I see that someone has joined the Six Degrees of Separation experiment group on Facebook (which now has more than 2.5 million people in it), I think about something I posted about on Culture Dish a few years ago: At this point, pretty much everyone knows the theory of Six Degrees of Separation:
That everyone in the world somehow connected through a chain of six
people. What most people don't know is, the results from the study that supposedly
proved the theory were seriously flawed …

The phrase "Six Degrees of Separation" was coined by inspired by a study by Stanley Milgram
— the famous and controversial social psychologist who
originally conducted the Milgram Shock Experiment, examining people's obedience to authority by testing
how many would administer potentially lethal electric shocks to
screaming victims (a study that was oddly just repeated).


For his study,
Milgram asked people to give a letter to other people they knew by
name, then he tracked how long it took for each letter to end up in the
hands of a person the original sender didn't know in another city. He
reported that the average number of people it took to get from the
sender to an unknown person was six. Hence, the phrase "six degrees of
separation." But recently, someone looked into his data and didn't like what she saw:
Judith
Kleinfeld, a professor psychology at Alaska Fairbanks University, went
back to Milgram's original research notes and found something
surprising. It turned out, she told us, that 95% of the letters sent
out had failed to reach the target. Not only did they fail to get there
in six steps, they failed to get there at all. Milgram was a giant
figure in his world of research, but here was evidence that the claim
he was famously associated with was not supported by his experiments.
Which
if true would mean the whole Six Degrees of Separation thing is more fiction
than solid statistics (much to the dismay of the many the films, plays
and books written using Six Degrees as their driving force). According to the BBC, several researchers apparently did similar studies to Milgram's, but those studies all had the same
problem:
In the most recent, two years ago, only 3% of letters reached their target. "If 95 or 97 letters out of 100 never reached their
target, would you say it was proof of six degrees of separation? So why
do we want to believe this?" …"The pleasing idea that we live in a 'small world' where
people are connected by 'six degrees of separation' may be the academic
equivalent of an urban myth," she says.

Kleinfeld has her journal article detailing the backstory of Milgram's study and her findings about his research here. It's fascinating stuff (she's also posted a shorter follow up here).
30 Responses to "Famous Six Degrees of Separation Study a Fraud?"
Named by more than 60 critics as one of the best books of 2010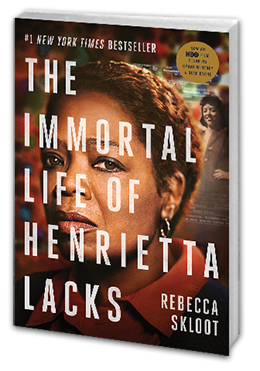 Buy the Book
Learn More
The Henrietta Lacks Foundation strives to provide financial assistance to needy individuals who have made important contributions to scientific research without their knowledge or consent.