Archives by Date:
Archives by Subject:
June 7, 2013
The Sequel to The Immortal Life of Henrietta Lacks – Now Online (Free)
The story goes on: Recently, scientists announced that they'd sequenced the genome of Henrietta Lacks's cells and published it online, where it was freely available to anyone who cared to download it. When news of the genome hit, Rebecca Skloot's inbox exploded. People wanted to know: did scientists get the family's permission to sequence publish Henrietta's genetic information (which also contains genetic information about her family)? The answer is no. As Francis S. Collins, director of the National Institutes of Health, says: "This latest HeLa situation really shows us that our policy is lagging years and maybe decades behind the science. It's time to catch up."
Read the full story of this latest chapter in the story of Henrietta Lacks and her family in Rebecca Skloot's OpEd in the New York Times, The Immortal Life of Henrietta Lacks The Sequel, the first update published on the Lacks family since The Immortal Life of Henrietta Lacks was released.
And for Rebecca Skloot's reaction to the (lack of) media coverage of this latest development in the HeLa story, see HeLa Curious Coverage: Media overlook ethical angles of Henrietta Lacks story
Named by more than 60 critics as one of the best books of 2010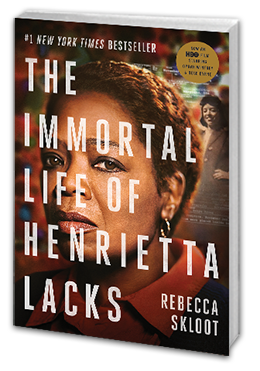 Buy the Book
Learn More
The Henrietta Lacks Foundation strives to provide financial assistance to needy individuals who have made important contributions to scientific research without their knowledge or consent.