Archives by Date:
Archives by Subject:
May 25, 2011
The A.V. Club Interviews Rebecca Skloot
Another great interview with Rebecca Skloot, this one with the A.V. Club (Chicago). In it, Rebecca answers often-asked questions about writing The Immortal Life and working with the Lacks family. She also gives unique insight into her countless hours of science research (which included a petrified rat!):
A.V. Club: You spent a lot of time with Henrietta's children to learn about their mother and their quest to learn about the cells. What other research did you do?

Rebecca Skloot: Much of my research for the science part was reading journal articles and interviewing scientists. Johns Hopkins has a George Gey [the scientist who bred the HeLa cell line] archive. They have 12 to 15 boxes of stuff in this room. There were thousands of letters that weren't indexed, so I sat down and read them all. Then there was this paraffined rat from the '50s with tumors all over it. I pulled it out, saying, "This is great!" But the people in the library were like, "Eww!"
Named by more than 60 critics as one of the best books of 2010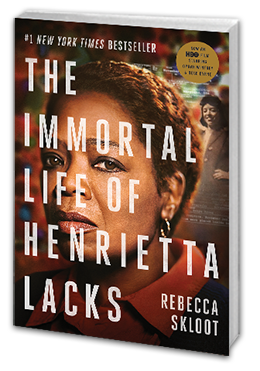 Buy the Book
Learn More
The Henrietta Lacks Foundation strives to provide financial assistance to needy individuals who have made important contributions to scientific research without their knowledge or consent.