Archives by Date:
Archives by Subject:
May 26, 2011
Rebecca Skloot Talks to inReads about Keeping Her Book Alive
"The intrigue of this book is that it's a science book and it's as much a page-turner as The Da Vinci Code, says Liz Funk in her inReads Q&A with Rebecca Skloot. "It's a thick tome but it's also feasible to read in three reading binges because the writing is so skillful and the story so compelling."
inReads: You went from being a respectably-published freelance writer and an adjunct college professor to a titan of hardcover nonfiction. What has this been like for you?

Rebecca Skloot: I did so much publicity on my own. I knew that because this story is so incredible, if I could get it out in front of people, people would have the same reaction to the story as I did when I first heard about it. I left my house for my self-organized book tour and I was on the road for four months straight and that was before there was any outside press approaching me. So I left my house January 29th 2010 and since then, I've been home a total of two or three months but not in order. I've been on the road and that's been my life. I do events every day. It's part of keeping the book alive.
inReads is the first website and online community dedicated to "social readia." Its content focuses on books, technology, and culture and how the three intersect and influence one another.
Named by more than 60 critics as one of the best books of 2010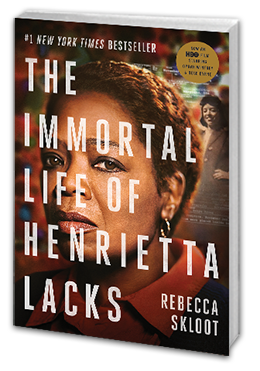 Buy the Book
Learn More
The Henrietta Lacks Foundation strives to provide financial assistance to needy individuals who have made important contributions to scientific research without their knowledge or consent.