Archives by Date:
Archives by Subject:
May 3, 2011
Real Simple's Book Club Discusses The Immortal Life
Erin Henry, Assistant Editor/Producer on RealSimple.com, announces The Immortal Life has been chosen by Real Simple readers as the "No Obligation Book Club" pick for April. "I could not be more excited to be leading the book club this month," Erin says, "especially since we are going to be reading The Immortal Life of Henrietta Lacks."
The virtual book group discussion is staged in three parts: Life, Death and Immortality. The discussions involve dozens of Real Simple readers, all of whom post thoughtful, provocative, smart questions and responses. Erin prompts the discussion with questions like these:
What parts of the book made Henrietta come alive for you? Did you find that the doctors were too nonchalant with their research, or did you think that their attitude was a product of the times? Did you expect a different reaction from the scientific community? What did you think of Day? Did you expect more of him? What is your impression of Deborah? Do you find the court's ruling to be fair?
The discussion concludes with Rebecca Skloot's answers to commonly asked questions about The Immortal Life.
For more discussion of The Immortal Life, check out the Hela Forum – share your story and join the conversation!
Named by more than 60 critics as one of the best books of 2010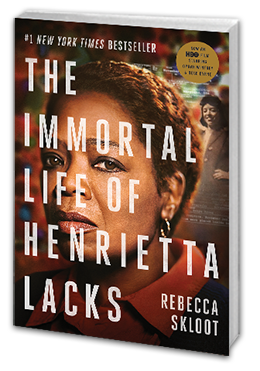 Buy the Book
Learn More
The Henrietta Lacks Foundation strives to provide financial assistance to needy individuals who have made important contributions to scientific research without their knowledge or consent.