Archives by Date:
Archives by Subject:
March 9, 2011
One Book, One Town Community Read: The Immortal Life of Henrietta Lacks, by Rebecca Skloot
Trumbull, CT will be holding a fantastic community read centered around The Immortal Life of Henrietta Lacks from March 9 to April 16, 2011. Please read on for full details from Sue Horton of the Trumbull Library System:
Trumbull Library System, Trumbull, CT. March 9 – April 16, 2011.
One Book, One Town Community Read:
The Immortal Life of Henrietta Lacks, by Rebecca Skloot.
Read the book, join our discussion groups and satellite programs! Featured event:
Who Owns Your Body? Panel Discussion. Fri. March 18, 7pm.
In 1952 doctors took Henrietta Lacks' cancerous cells without asking, and though they had no way of knowing, sixty years later those HeLa cells have replicated to launch a multimillion-dollar industry. Could the same thing happen today? Our panel of experts will discuss the evolution of medical ethics, and medicine itself since the 50s, as they attempt to answer who owns your body?
Panel:
Richard D. Connell, PhD. Vice President, Head of Worldwide External Research Solutions, Pfizer Global Research & Development.
Mark Horton, D. Min. Protestant Chaplain, Campus Ministry and Adjunct Professor, Western Connecticut State University.
Lisa H. Newton, PhD. Professor of Philosophy, Fairfield University.
David Kaufman, MD. Chief of Pulmonary and Critical Care Medicine, and Head of Ethics Committee, Bridgeport Hospital.
Joseph S. Wolenski, PhD. Lecturer and Research Scientist, Dept of Molecular, Cellular and Developmental Biology, Yale University.
Pick up a copy of the book and join us for over 15 satellite events, shown on our website, and register.
Trumbull Library System
33 Quality St.
Trumbull, CT 06611
203-452-5197
www.trumbullct-library.org

Click here for a PDF list of all programs taking place during the Trumbull, CT Community Read of The Immortal Life of Henreitta Lacks
Named by more than 60 critics as one of the best books of 2010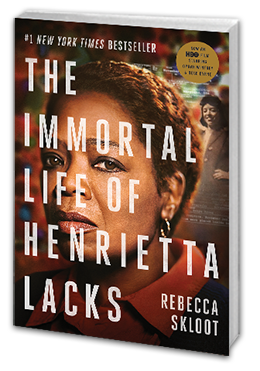 Buy the Book
Learn More
The Henrietta Lacks Foundation strives to provide financial assistance to needy individuals who have made important contributions to scientific research without their knowledge or consent.