Archives by Date:
Archives by Subject:
March 21, 2011
JAMA Calls The Immortal Life 'An Irresistible Read'
The Journal of the American Medical Association reviewed The Immortal Life in its March 16, 2011 issue. Here's an excerpt:
With a sensitive heart, a knowledge of science, an investigative reporter's zeal, and a novelist's skill, Skloot combines biography, medicine, science, detective thriller, social critique, and medicolegal inquiry. This layered approach is at once moving, sad, funny, and deeply unsettling…an irresistible read.

The trajectory of the HeLa cells from Lacks' cervix to an underfunded laboratory at Johns Hopkins, to thousands of laboratories around the world, to huge commercial enterprises, and eventually to the most important scientific discoveries in the 20th century, including the polio vaccine, chemotherapy, and gene mapping, is riveting. But the book is much more than a mesmerizing scientific chronicle.

More than a compelling human story, it is also a well-written science story that compels the reader to consider many important questions: Do individuals own their bodies? How much are they entitled to know about research conducted using their bodies? Who should share the financial benefits derived from scientific advances made using body tissues and other materials?
Named by more than 60 critics as one of the best books of 2010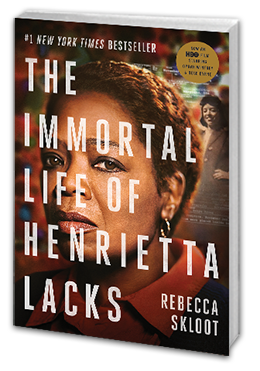 Buy the Book
Learn More
The Henrietta Lacks Foundation strives to provide financial assistance to needy individuals who have made important contributions to scientific research without their knowledge or consent.