Archives by Date:
Archives by Subject:
March 19, 2011
Author Nick Hornby Calls The Immortal Life 'Extraordinary' and 'Breathtaking'
Nick Hornby's Stuff I've Been Reading column in the March/April issue of The Believer features his experience reading The Immortal Life.
Riveting, beautifully written, and, yes, educational. I learned stuff. I learned so much stuff that I kept blurting it out to anyone who'd listen…Extraordinary…breathtaking…the author knows what she has, and what she has is a gold mine of material dealing with class, race, family, science, and the law in America. In fact, The Immortal Life of Henrietta Lacks, like Adrian Nicole LeBlanc's incredible Random Family, is about pretty much everything…(I suspect that…the subject matter grew richer and richer with each year of contemplation.) Skloot tells brief, vivid, and astonishing stories of medical-ethics cases…If I come across a book as good, as gripping, as well constructed, and as surprising as this in the rest of 2011, I will be a happy and grateful man. Read more…
The Believer is a McSweeney's publication, a monthly magazine featuring book reviews, interviews, and essays that "give people and books the benefit of the doubt."
Named by more than 60 critics as one of the best books of 2010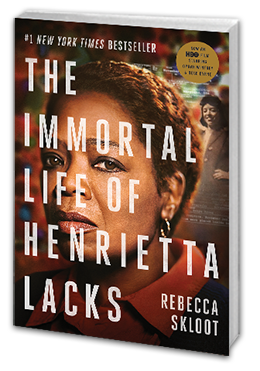 Buy the Book
Learn More
The Henrietta Lacks Foundation strives to provide financial assistance to needy individuals who have made important contributions to scientific research without their knowledge or consent.