Archives by Date:
Archives by Subject:
February 4, 2011
Returning the Blessing of an Immortal Life
February 4, 2011: the New York Times talks to Rebecca Skloot about creating the Henrietta Lacks Foundation , and her hopes for the Foundation's future.
Since the book's debut a year ago, it has earned rave reviews, prizes, a movie deal with HBO and a steady spot on best-seller lists. And Ms. Skloot is making good on her pledge to share the financial windfall with the Lackses.

Shortly before the book came out, she created the Henrietta Lacks Foundation to help Mrs. Lacks's descendants, some of whom suffered from the whirlwind of publicity, misinformation and scam artists surrounding HeLa cells, not to mention a lack of insurance to pay for any of the medical advances Mrs. Lacks's cells made possible.

"I first envisioned it as a foundation for education, but I realized that the people who were affected the most were her kids, and they needed some medical care and dental care," Ms. Skloot said from her home in Chicago.
Named by more than 60 critics as one of the best books of 2010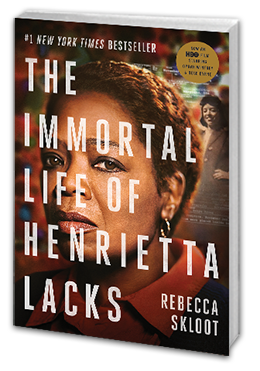 Buy the Book
Learn More
The Henrietta Lacks Foundation strives to provide financial assistance to needy individuals who have made important contributions to scientific research without their knowledge or consent.