Archives by Date:
Archives by Subject:
June 25, 2010
Rave Reviews for The Immortal Life of Henrietta Lacks in the UK
The Immortal Life of Henrietta Lacks was published a few weeks ago in the UK, where it's getting rave reviews. Below, a sampling:
"Immensely moving" — The Guardian (full story here)

"Skloot writes with sensitivity about race, class and education … Science writing is often dry and factual. This compelling book is anything but: as the pacy narrative unfolds, you feel the author's passion and the family's pain as they grapple to understand how Henrietta's cells have become part of a multimillion-dollar industry." — Irish Times (full review here)

"The Immortal Life of Henrietta Lacks is moving and magnificent … Told with grace, compassion and humanism, this questing, intelligent book makes comprehensible a complex tale of scientific discovery while offering up a heartbreaking account of racism and injustice. More fascinating than much fiction, it succeeds in bringing hidden lives, past and present, to light." — Metro Times (full review here)

"An extraordinary book … If science has exploited Henrietta Lacks [Skloot] is determined not to. This biography ensures that she will never again be reduced to cells in a Petri dish: she will always be Henrietta as well as HeLa." — The Telegraph (full review here)

"[A] remarkable and moving book … a vivid portrait of Lacks that should be as abiding as her cells … Skloot has written an important work of immersive nonfiction that brings not only the stories of Henrietta Lacks and HeLa once more into line, but also catharsis to a family in sore need of it." — The London Times (full review here)

"[A] remarkable book" — London Review of Books (full review here, subscription required)
More reviews available here.
Named by more than 60 critics as one of the best books of 2010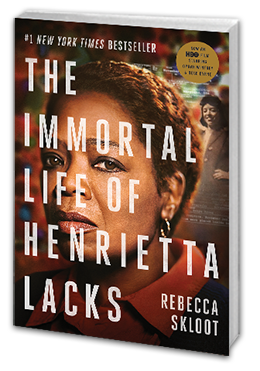 Buy the Book
Learn More
The Henrietta Lacks Foundation strives to provide financial assistance to needy individuals who have made important contributions to scientific research without their knowledge or consent.