Archives by Date:
Archives by Subject:
October 3, 2009
Publishers Weekly Starred Review of The Immortal Life of Henrietta Lacks
Big news: The first pre-publication review of Skloot's book, The Immortal Life of Henrietta Lacks, has hit the press, and it's a rave!  In a starred review, Publisher's Weekly says:
Science journalist Skloot makes a remarkable debut with this multilayered story about "faith, science, journalism, and grace." It is also a tale of medical wonders and medical arrogance, racism, poverty and the bond that grows, sometimes painfully, between two very different women—Skloot and Deborah Lacks—sharing an obsession to learn about Deborah's mother, Henrietta, and her magical, immortal cells. Henrietta Lacks was a 31-year-old black mother of five in Baltimore when she died of cervical cancer in 1951. Without her knowledge, doctors treating her at Johns Hopkins took tissue samples from her cervix for research. They spawned the first viable, indeed miraculously productive, cell line—known as HeLa. These cells have aided in medical discoveries from the polio vaccine to AIDS treatments. What Skloot so poignantly portrays is the devastating impact Henrietta's death and the eventual importance of her cells had on her husband and children. Skloot's portraits of Deborah, her father and brothers are so vibrant and immediate they recall Adrian Nicole LeBlanc's Random Family. Writing in plain, clear prose, Skloot avoids melodrama and makes no judgments. Letting people and events speak for themselves, Skloot tells a rich, resonant tale of modern science, the wonders it can perform and how easily it can exploit society's most vulnerable people. 
Amazon is still offering the hardcover and unabridged audio versions of the book at a good pre-order discount here.
Named by more than 60 critics as one of the best books of 2010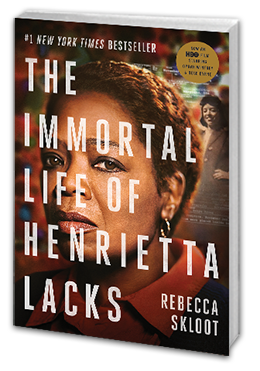 Buy the Book
Learn More
The Henrietta Lacks Foundation strives to provide financial assistance to needy individuals who have made important contributions to scientific research without their knowledge or consent.