Audio/Video
---
• AUDIO: Listen to the Radiolab piece on The Immortal Life of Henrietta Lacks, which includes audio footage from Rebecca Skloot's research tapes. Hear the voice of George Gey and other central characters, and listen to key scenes from the book: Deborah seeing her mother's cells for the first time, Gary Lacks's faith healing, and more.
---
• VIDEO: Watch a trailer of The Immortal Book Tour, in which Rebecca Skloot talks about her book, and the Lacks family joins her in public appearances discussing the legacy of Henrietta Lacks, their feelings about The Immortal Life of Henrietta Lacks, and more:

---
• VIDEO: Rebecca Skloot discusses a key (if unorthodox) moment in her book reporting process that helped her win Deborah Lacks's trust. Hint: It involves being bitten by dozens of ticks and bathing in salad dressing:
---
• VIDEO: See archival footage of HeLa cells growing in a laboratory in the 50s.
HeLa Cells from Radiolab on Vimeo.
---
• VIDEO: HeLa Cells Dividing: HeLa cells dividing over 27hrs grow hair then divide
---
• VIDEO: Watch the BBC Documentary, The Way of All Flesh, which Skloot discusses in several chapters of her book:
---
• VIDEO: Rebecca Skloot wrote The Immortal Life of Henrietta Lacks using a braided story structure that jumps around between multiple time periods and multiple narratives. In the video below, Skloot explains how she worked out the book's structure with the help of Fried Green Tomatoes at the Whistle Stop Cafe and Hurricane, the film about Hurricane Carter the boxer:
For more audio and video, including Skloot talking about The Immortal Life on The Colbert Report, Fresh Air With Terry Gross, and the Lacks family discussing the book and HeLa cells on CBS Sunday Morning and more, visit the Press Coverage page of this website.
Named by more than 60 critics as one of the best books of 2010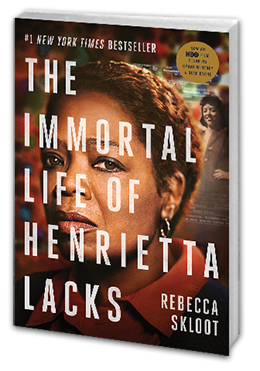 Buy the Book
Learn More
The Henrietta Lacks Foundation strives to provide financial assistance to needy individuals who have made important contributions to scientific research without their knowledge or consent.