Events & Appearances
Rebecca Skloot travels worldwide speaking about her book, The Immortal Life of Henrietta Lacks and related scientific and ethical issues; she also teaches writing workshops and gives talks on a wide range of subjects at conferences and universities nationwide. Skloot has been on tour speaking about The Immortal Life for more than a year—for the full story of The Immortal Tour, and how and why Skloot organized it herself, visit the Book Tour page of this site. See the calendar below for a schedule of Skloot's upcoming speaking events, which is updated often. If you'd like to invite Skloot to give a talk in your area, please contact her speaking agent.
Please note: By default, the column on the far left on the calendar below shows the time of the event in the local time of the viewer's computer, which may or may not be local time for the event. Please note the local time listing in each event headline—that is the correct time for each event.
---
Named by more than 60 critics as one of the best books of 2010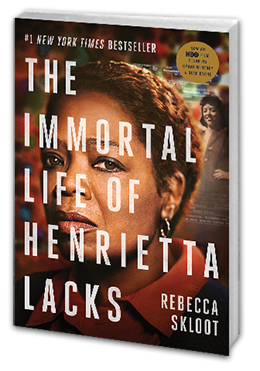 Buy the Book
Learn More
The Henrietta Lacks Foundation strives to provide financial assistance to needy individuals who have made important contributions to scientific research without their knowledge or consent.