Archives by Date:
Archives by Subject:
January 23, 2010
Chicago Tribune Loves The Immortal Life of Henrietta Lacks
I'm so honored: Today in a great piece about new science books over at the Chicago Tribune, the amazing Pulitzer Prize winning narrative journalist Julia Keller had this to say about The Immortal Life of Henrietta Lacks:
Skloot's "The Immortal Life of Henrietta Lacks," to be published next month by Crown, beautifully epitomizes what's so wonderful about today's science writing for a lay audience. Her account of how scientists harvested the cells of an impoverished black woman who died in 1951 in order to advance medical science — but without her knowledge or consent — is a compelling mix of genres. It's part detective story, part history lesson, part family saga, part genetics textbook and part social justice manifesto.
Named by more than 60 critics as one of the best books of 2010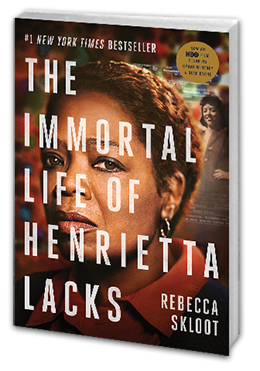 Buy the Book
Learn More
The Henrietta Lacks Foundation strives to provide financial assistance to needy individuals who have made important contributions to scientific research without their knowledge or consent.