Tips For Successful Book Reviewing
Strategies for Breaking in and Staying in: Getting started as a critic, building your reviewing portfolio, going national, and keeping editors happy.
By Rebecca Skloot, a former National Book Critics Circle vice president, with assistance from Elaine Vitone. Originally published November 2006.
Getting your first professional book review assignment is pretty straightforward: You just email a book-section editor, let the editor know who you are, what your specialty is, where to read samples of your work, and what forthcoming titles you could review for them. Of course, figuring out how to do each of those things is the trick. How do you contact a review editor? How can you send writing samples if you haven't published anything yet? How do you find out what books are coming out so you can pitch them? At the NBCC, we get questions like this all the time from people hoping to break into book reviewing, so we've compiled this handout of tips culled from NBCC Board members–professional critics and review editors–to help demystify the process.
Making contact
If you're coming from a reporting background, you might assume that landing a review assignment is about pitching a specific story and writing a good query letter, and that you're supposed to find the right book to pitch. In reality, it's about building relationships with editors so they come to know you as a go-to reviewer for certain kinds of books. So how do you contact review editors to introduce yourself and (hopefully) start reviewing for their publications? Here are some tips:
The National Book Critics Circle has created a directory of review editors. In it, we provide contact information for editors at most major review outlets, as well as many smaller outlets (local papers, literary journals, web magazines, etc.). The directory is free to all NBCC members — if you're a member, you can get a copy by contacting the membership vice president through our website: www.bookcritics.org. If you're not a member and you'd like to join and get the directory, you can do so on our website.
Read the publication you plan to query. Pay attention to what it has reviewed, how long the pieces are, whether there's a particular ideological slant, whether the section picks up wire reviews instead of hiring freelancers, and who typically reviews the books. This will tell you what types of reviews a paper is looking for, whether they tend to hire freelancers, and if so, what their backgrounds tend to be. Some smaller newspapers, for example, only use local freelancers. Others only use experts in certain fields.
Have a friend or colleague who reviews for a publication put you in contact with his/her editor via email (this kind of introduction, even if it's simply, My friend so-and-so recommended I email you, can really help when trying to break into a new reviewing market)
Call the publication you hope to review for and request the editor's name and contact information.
Follow up on your queries by email, to make sure the editor got it (tip: Paste your original pitch in your follow-up email; editors are swamped with email, chances are they won't have time to dig through their inboxes to find your original pitch). You can also follow up via telephone if you don't hear back from emails, but use the phone very sparingly, and keep it brief: Editors are as swamped with phone calls from publicity people as they are pitches. Most don't take kindly to being interrupted with phone calls.
Prepare to be ignored — most review editors get hundreds of emails a day. Keep trying. Be persistent, but don't be a nag, and don't be aggressive. It's not personal. The more you come across as a reviewer who understands editors' hectic jobs and can help make life easier, the more likely you are to get their attention (sending nasty emails demanding responses is a sure way to end up in a trash folder with no reply). For more tips on pitching editors and getting their attention, see another recent handout by Rebecca Skloot and Elaine Vitone — it's aimed at journalists, but has many tips that apply for critics as well.
Clips
Yes, you do need clips — review samples — to get assignments. Of course, getting that first clip can be tough, because you have no clips to show to get the assignment. Here are some tips for getting — or creating — your first clips:
Start a blog where you write short book reviews. If you take blog reviewing seriously and write each post as if you were turning it in to an assigning editor at a newspaper or magazine, a blog can substitute for published clips. Many editors actually like seeing blog clips, because there's no editor between your sample and what they're reading, so they can see the quality of copy you'd turn in without an editor. (The down side is, you have no editor: If you put less thought into your blog entries than you would into a published review, that casualness may come back to bite you. So don't forget to be your own editor. And don't just lob labels around like, Good- book/bad-book, or Good-writer/bad-writer. Follow John Updike's Six Rules for Reviewing at all times.)
Write Amazon reviews for practice, and use them as clips if it's all you've got (though starting your own blog is a better route because it's more organized and looks more professional). The be-your-own-editor point from above applies here as well. As do ethics: Don't review books by your friends or enemies.
Use any clips you've got from legitimate publications, even if they aren't review clips. Good writing is good writing, and good thinking is good thinking.
Don't aim too high: Most critics would love to write for the New York Times, Chicago Tribune, Washington Post, etc., which is precisely why it doesn't make sense for a beginning critic to start out there. Aim for smaller local newspapers, which often have wonderful book review sections that use a lot of freelancers. Review for your local city papers and alternative newsweekly; review for a local newsletters. Once you have a good set of clips and many reviews-worth of experience, then start pitching national markets (tip: when you do this, don't try breaking into all major papers at once — pick one publication, maybe two, that you want to target first. Study those publications, learn the editors' tastes, don't pitch blind).
Target literary journals: There are huge numbers of literary journals — both in print and online — that publish book reviews. These are excellent places to publish as a beginning or experienced critic. Many of literary journals publish dozens of reviews in each issue — like American Book Review (30-50 reviews/issue), Parnassus (200+ pages of reviews/issue), Pleiades (100+ pages of reviews/issue), etc. Most literary journal editors are very open to working with new writers who are actively trying to build a set of good clips. As Kevin Prufer, the editor of Pleiades told us, "I recommend literary journals for people who are just starting out and want something to show other editors. Since Pleiades is known to a pretty select group of readers, I receive perhaps one query from a potential reviewer each week. I always answer and, if the reviewer doesn't seem like a crackpot, will usually offer an assignment (with the understanding that if the review doesn't suit the magazine, I'll reject it). American Book Review also frequently works with first-time reviewers." Like many book review sections, the pay is low when reviewing for small presses. But it's an excellent way to build a good set of published clips, and to learn the ropes of reviewing. There is a long list of journals, in addition to those listed above, that publish many reviews in each issue and are always looking for new critics: Mid-American Review, Missouri Review, Georgia Review, Creative Nonfiction, Antioch Review, n + 1, Notre Dame Review, and many others. A full list of literary journals is availableonline from Newpages.com. Once you have a few clips, publications like Publishers Weekly are a great place to build your portfolio and experience as a critic. They review a lot of books, most of their reviews are written by freelancers, and they have a large staff of editors who help craft each review and steer you toward their reviewing style, which is a good one to learn. They're very rigorous in terms of the quality they demand (as they should be) and they don't pay well at all (last we heard, they paid around $30 per review). But if you're trying to become a professional critic, writing for them can really hone your skills and help build a reviewing track record.
Know what's being published when
Unfortunately, once a book hits the stores, your chances of reviewing it are slim: At that point, if a paper or magazine is going to review it, they've already assigned it (though some smaller papers and all literary journals review titles months after their publication dates). Beginning critics often ask how to find information about what books are coming out in time to review them before they hit bookstore shelves. Here are some tips:
Read the pre-publication reviews, which run in magazines aimed at booksellers, librarians, and other industry insiders: Library Journal, Kirkus Reviews or Publishers Weekly. They review most books several months before they come out, which often leaves you plenty of time to pitch a review to a magazine or newspaper.
The best way to know about books before the pre-publication reviews come out is to contact each publishing-house's publicity office and request their catalogs. These list the house's entire season's titles, so you'll get the whole lineup many, many months before the books are released. For a list of all publishing houses and contact information for their publicity offices, see the great website called Review Copy Helper.
Use the "Browse Books" function at Amazon.com or the "Coming Soon" function at Barnes & Noble. From there, you can browse all forthcoming books, or select, say, "history" or "science" from the browse subjects menu, then sort your search results by "publication date" to see what history or science (or whatever) books are coming out when.
If you live in a city with a major reviewing outlet (New York, Chicago, San Francisco, Boston, Portland, Seattle, LA, etc.) check your local used bookstores. Much to writers' and publishers' chagrin, many used bookstores sell discarded prepublication reviewer copies, or galleys. They can help you stay on top of what's coming up from publishers, especially if they aren't yet sending you catalogues or review copies.
Don't forget to keep up with academic-publishing-house catalogs and small, independent-publishing houses. It's the critic's job to help bring books to the attention of their editors, who might otherwise miss them — this happens with large and small presses, but it's much more common with the smaller presses. When trying to place reviews of these books, pay special attention to local small review sections: Alternative newsweeklies and small local papers are much more likely then the large dailies to review books from smaller publishers. And most importantly, target literary journals — they're very enthusiastic about covering small press books (see section above on targeting literary journals for more information).
When you're introducing yourself to a new editor and hoping to get your first assignment, it's good to pitch a few titles — maybe three at most. But know editors might not assign you the books you pitch. There are many reasons for this: They aren't interested. They've already assigned those books to other reviewers, or, in many cases, they simply don't assign new reviewers books they pitch because they wonder: Why this book? Do you know this person? Do you have an ax to grind with the author? Be open to reviewing whatever they need reviewed.
Become an expert
Becoming a reviewer isn't simply about breaking into a publication and getting your first assignment — before any of that happens, you must become an expert. Read and study widely, try building a background in a specific genre or subject matter, learn its ins-and-outs, its famous practitioners and its not-so-famous ones, what makes it work, what makes it fail (Tip: As criticism genres, crime and mysteries tend to be very popular and hard to break into).
In general, critics are more marketable if they have some sort of specialty — food writing, science writing, entertainment writing, childrens writing, short stories, or even just a specific genre. If you specialize (and if you're a good critic), editors will begin to think of you as a go-to critic for books in your area of expertise. (Of course, there are plenty of successful reviewers who are generalists).
Know what's going on in the industry. The country's leading newspapers, like the Los Angeles Times, the Washington Post, the New York Times, and the Wall Street Journal, all have book sections and (nearly) daily reviews. Magazines like the New Yorker, Harper's, The Atlantic, the Nation, and the New Republic all run long review-essays, as do many literary and scholarly journals (more on that below). Keeping up with publications like these — even if you only have time to skim them — will help you follow where the critical community's attention is going.
Just reading a few literary blogs–like Bookslut (which tends to focus on American book news), Maud Newton (which has a more singular perspective), The Complete Review (which has a world-wide focus), Mediabistro's GalleyCat (which carries a lot of industry news) or Old Hag (which hails from the Midwest), and (of course) the NBCC's Critical Mass — can an keep you plugged into what's going on in the book world, and it will save you time in scrolling through hundreds of book pages. To cut down on the time you spend hitting all these sites, you can set up an RSS feed and browse all the new postings in one place. Also, subscribe to industry newsletters — like Publishers Lunch, and Publishers Weekly's PW Daily — and read industry publications — like BookForum, Poets & Writers, PW, Library Journal, Kirkus.
Watch for trends: Are there three books on happiness coming out in in a few-month window? Do there seem to be a lot of memoirs appearing suddenly from twenty-something year-old writers? These are things a professional critic notices and points out to his/her editor (which makes the editor's jobs easier, which makes the editor like the freelancer, which makes the editor give the freelancer lots of assignments, which makes the freelancer happy). If you notice a trend, write a mini query letter, maybe a couple of lines long, to pitch a trend piece or package review to an editor.
News hooks can be a selling point for package-reviews; they can also allow you to revisit titles that are already on the shelves (and therefore past their reviewing prime). Is there a major world sporting event coming up, like the World Cup, the start of baseball in April, March madness, or the beginning of NFL football season in the fall? Is something — like cloning, for example — suddenly all over the news? If so, pitch a piece that combines three or four books on cloning. Include new books and some not-so-new books, look at how things have changed, or not changed. Be creative.
Read good criticism. There are several authors who regularly gather their reviews and essays into collections that show how good criticism must be to stand the test of time. The NBCC has awarded several of these books prizes in our criticism category: Cynthia Ozicks "Quarrel & Quandary," William H. Gass' "Finding a Form," John Updike's "Hugging the Shores," Martin Amis' "The War Against Cliche," William Logan's "The Undiscovered Country," and Mario Vargas Llosa's "Making Waves" are essentials in any critics library. Going back even further, the essays of T.S. Eliot, Virginia Woolf, Borges, and Orwell remind us how criticism can be the intellectual record of our times. Notice, too, how the very best criticism is driven by metaphors and ideas and examples, not adjectives.
Read the best works of literature. In his collected essays, Joseph Brodsky argued that all writers — whether they wrote nonfiction or pulp — would be well served by going back to the very best works in their language (which, being a poet, he argued came from poets). The deeper you read into the tradition of the novel, of crime-writing, of biography, of science-writing or whatever genre you review, the better your criticism will become. What you read is your diet. The more exposure you have to the varieties of experience in language the better equipped you are to fight Amis' so-called War Against Cliche.
Reviews aren't everything
Book review sections don't only run reviews: They publish author Q&As, author profiles, package reviews, and some publications — especially literary journals — want essays.
Q&A possibilities are everywhere: Writers travel constantly — for book tours, visiting-writer programs, research trips, you name it. Know who's coming to your town (sign up for newsletters from your local universities and writers series; visit the websites of authors and publishers to check out book tour schedules). Read the work of writers who will be visiting your town, then contact your local paper to pitch Q&As with authors before their events. Chances are, they'll go for it. Once you've got the assignment, contact the author by calling his/her publishing house and asking for the publicist working on her/her book. Contacting writers through their personal websites sometimes works just as well (if not better), but it's not always as reliable — many authors get mountains of unsolicited email, so yours could get lost easily. A good publicist can help you get around that. Tips: You can re-pitch a Q&A with the same writer to different local papers along their book-tour route. Syndicating yourself is a great a way to make reviewing pay better, and to get to know more editors. Also, keep the hometown factor in mind. For example, if an author grew up in Cincinnati, you can bet the Cincinnati papers will want to run reviews and interviews with her.
Finally, journals like Wilson Quarterly, Virginia Quarterly Review, Poetry, The American Scholar, The Believer, The American Book Review, London Review of Books,, the New York Review of Books and many others like reviewers to ponder bigger subjects and write pieces that are part-essay, part-review (see Newpages.com's complete list of literary journals here). These journals come out very infrequently, so they care less about how current the book is than the way you craft your essay/review.
Once you have your assignments:
Breaking into book reviewing is one thing; staying there once you've done it is another. Here are tips from editors of the nation's leading book review sections on how to stay in once you've broken in:
Understand Deadline and Production Issues: "Freelancers need to understand the twin issues of timeliness and deadlines. I get pitches and I try out freelancers, then one or two become lax about getting things to me on time. That makes me avoid them the next time around. And this isn't just about making it on the first assignment. A reviewer who makes our jobs easier — and gets us off the hot seat with the copy desk by meeting deadlines — is always looked upon favorably. After a reviewer is firmly on board and has proven to be reliable, of course there's always room for talking — moving back a deadline or swapping run dates if possible. But sometimes I can't switch things: Maybe it's the main review that leads the page and carries art and we're locked into running it because of that; or maybe an author is coming to town and I have to run the review before the author's appearance. But I do everything I can for reliable reviewers. The key is communicating — in a timely fashion. I give them extra days or switch things around as long as they e-mail me with plenty of notice. But if these flubs occur early in the game, when I am trying out a new reviewer, there's very little incentive for me to give that person another assignment. The amount of mail we get from wanna-be reviewers is a river; there's always the next guy waiting to be asked" (Geeta Sharma-Jensen, editor Milwaukee Journal Sentinel book section).
Be Ethical and Considerate: "You need to convince editors they can trust you: When in doubt, avoid requesting assignments that could possibly be interpreted as a conflict. The key here is transparency and candor. Disclosure is important" (Elizabeth Talyor, editor of the Chicago Tribune book section). An editor finding out that you had a vested interest in an author or book you reviewed (like, it was written by a friend or enemy), is a sure way to kill your reviewing career. When in doubt, always follow Updike's 6 rules for reviewing, which lay the standards out well.
Named by more than 60 critics as one of the best books of 2010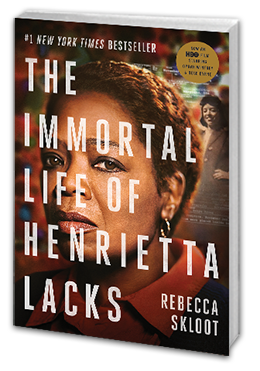 Buy the Book
Learn More
The Henrietta Lacks Foundation strives to provide financial assistance to needy individuals who have made important contributions to scientific research without their knowledge or consent.