Community Reads/FYE
For speaking engagements:
Rebecca Skloot is represented by the Lyceum Agency. To book her for a speaking event, contact Miriam Feuerle: or call 503.467.4621
Considering using the book for FYE or common reading programs?
Download and print Random House 'Common Reads' FYE feature (pdf) and visit the teaching and reading group pages of this site to see the many resources that accompany the book. For more information, e-mail Michael Gentile, director of academic marketing for Random House: .
The Immortal Life of Henrietta Lacks has been selected for common reading at nearly 150 colleges and universities as well as at high schools and for "One City, One Book" programs, including:
Baton Rouge, LA – 'One Book, One Community'
Columbia, MO – 'One Read'
Detroit, MI – 'One Book, One Community'
Connecticut College
Gallaudet University
Johns Hopkins University
Morehouse School of Medicine
Northwestern University
North Carolina State University
Purdue University
University of California, Santa Barbara
University of Maryland
University of Tennessee
University of Wisconsin, Madison
Virginia Commonwealth University
The list continues to grow — for a more detailed list of adoptions and to request a desk copy, visit Random House's Community Reads site.
Listen to podcast of NPR's Talk of the Nation interview with Rebecca Skloot discussing The Immortal Life and 'Common Reads' programs across the country.
Read what students and educators have said about The Immortal Life of Henrietta Lacks and its adoption for FYE and community reads programs:
"Thanks to Rebecca Skloot's remarkable book, the Lacks case is likely to become a classic in the history of biomedical ethics…Skloot is a science journalist but this book also evidences her skill as a historian…Students in classes covering ethics, public health, and the history of medicine, childhood, the family, women, the 1950s, and race will be engrossed by Lacks's story. The many questions raised by the existence and use of HeLa cells will generate hours of classroom discussion." — Journal of the History of Medicine
"Unlike the stereotypical reading assignment that too often catalyzes students to bond over mutual dislike, this choice appealed to people with diverse interests, including literature, science, history, philosophy, psychology, sociology, anthropology, medicine, and social justice. As Morgane Amat, a French-born first-year physics major and potential art and math double minor, explained, 'I liked the biographical components combined with the scientific knowledge.' Opinions about the book were as diverse as the first-year class, who used it as a tool to get to know each other…It has now been more than six months since I first heard the name Henrietta Lacks. The person behind the name has now taken shape in my mind. Henrietta was a woman, a mother, a wife, and a cancer patient – in short, a human being who is too often remembered, if at all, as nothing more than an acronym. She is the source of the precious HeLa cells that defined modern medicine, an unsung hero who did not volunteer for the job. And now she is also at the heart of the introduction to my first year in college. Through Rebecca Skloot's book, Henrietta Lacks has set a very high standard for what I hope my college experience will be like. So far, I have not been disappointed. My classmates and I will never forget the life, death, and incredibly busy afterlife of Henrietta Lacks and her unique cells." —Jesse Neikrie, first-year student at Connecticut College
"Using The Immortal Life of Henrietta Lacks in the classroom will deepen your students' understanding of nonfiction, science, medicine, and history—but more than that, it will prepare them to engage thoughtfully with the profound moral and ethical dilemmas posed by emergent technologies and the world we share." —Amy Jurskis, Tri-Cities High School, East Point, Georgia
"The Immortal Life of Henrietta Lacks was an excellent summer reading selection. Over 2,100 first-year students as well as faculty members, research professionals, and university staff took part in over 80 discussion groups during VCu's welcome week. Her message inspired students to become passionate and engaged with both learning and inquiry. Throughout their first semester, the book continued to serve as an excellent model of research writing for our newest students." —Daphne L. Rankin, PhD, Associate Vice Provost for Instruction, Virginia Commonwealth University
"What is The Immortal Life of Henrietta Lacks really about? Science, African American culture and religion, intellectual property of human tissues, southern history, medical ethics, civil rights, the overselling of medical advances? . . . The book's broad scope would make it ideal for an institution-wide freshman year reading program." —David J. Kroll, Professor and Chair, Pharmaceutical Sciences, North Carolina Central University
Click here for more of what professors are saying about The Immortal Life.
A sampling of responses from event organizers and audience members at Rebecca's recent Immortal Life events:
"Ms. Skloot's speech perfectly epitomized the objective of our Crown Lecture in Ethics. She drew a diverse crowd of hundreds of students, faculty, and staff, as well as members of the local community. The thought-provoking lecture and subsequent discussion provided our community an opportunity to confront challenging questions that were not only incredibly engaging, but also timely. What a pleasure Ms. Skloot was to work with personally." —Duke Sanford School of Public Policy
"The audience was in awe and we could have stayed for questions till midnight." —Chicago Council of Science and Technology
"Rebecca's event surpassed our expectations. The Immortal Life of Henrietta Lacks connects with people on an intimate, emotional level and inspires readers to ask themselves hard questions about life and death, love and loss, right and wrong . . . Rebecca's straightforward narrative left the large crowd completely rapt at her talk. The Immortal Life of Henrietta Lacks is a truly interdisciplinary work that inspired us to reach out to our colleagues in different corners of the academy, to learn from each other. Several people said that this seminar was the most truly interdisciplinary event they'd attended." —Emory University
"This session was amazing. She is an excellent speaker and the message was one that needed to be heard. Very engaging speaker." —Public Responsibility in Research and Medicine annual conference keynote
"Rebecca did a fantastic job. She was one of our top speakers ever!" —West Virginia University
"The impact Rebecca's visit had on our students was visible and exciting!" —DePauw University
Hear DePauw students speak about Rebecca's visit as part of DePauw University's Ubben Lecture Series in this short video:
Named by more than 60 critics as one of the best books of 2010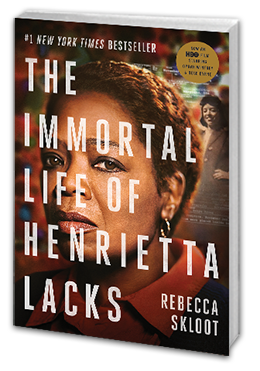 Buy the Book
Learn More
The Henrietta Lacks Foundation strives to provide financial assistance to needy individuals who have made important contributions to scientific research without their knowledge or consent.