Events & Appearances
Rebecca Skloot travels worldwide speaking about her book, The Immortal Life of Henrietta Lacks and related scientific and ethical issues; she also teaches writing workshops and gives talks on a wide range of subjects at conferences and universities nationwide. To read about Rebecca's work as a speaker, click here.
Members of Henrietta Lacks's immediate family also travel extensively to speak about their story at universities and other institutions. Rebecca encourages all institutions interested in having her speak to consider having the Lacks family join them either with Skloot or in her place, to tell their own story and answer questions about their experiences with HeLa cells, the book, and more. For more information on the Lacks Family and their upcoming events, visit their website.
See the calendar below for a schedule of upcoming speaking events featuring Skloot and/or the Lacks family. The schedule is updated often.
If you'd like to invite Rebecca and/or the Lacks family to give a talk in your area, please e-mail the details of your request to Miriam Feuerle at Lyceum Agency: miriam [AT] lyceumagency [DOT] com, or call her at 503.467.4621.
---
VIEW:
Mission Viejo, CA
Time: 1:00 pm
28000 Merguerite Pkwy, Mission Viejo, CA
Augusta, ME
Time: 2:00 pm
4/29
45 Winthrop Street
Augusta, ME 04330
207-626-2415
Boston, MA
Time: 1:00 pm
with Shirley Lacks and David Lacks, Jr.
A300 Auditorium, 250 New Rutherford Avenue, Boston, MA 02129
San Luis Obispo, CA
Time: 5:15 pm
Highway One, San Luis Obispo, CA 93403
Valley Glen, CA
Time: 1:00 pm
5800 Fulton Avenue,
Valley Glen, CA 91401
818-947-2600
Gary, Indiana
Time: 1:00 pm
3400 Broadway, Gary, Indiana
Louisville, KY
Time: 7:00 pm
2001 Newburg Rd
Louisville, KY 40205
502-272-8000
Los Angeles, CA
Time: 1:30 pm
Rebecca Skloot and Lacks Family
Charles Drew University of Medicine and Science — Lecture, Q&A
Rebecca and members of the Lacks family will speak to students, faculty, staff, and community members. For more information: http://www.cdrewu.edu/about-cdu/events
Peoria, IL
Time: 10:30 am
Rebecca Skloot will deliver the keynote address at the annual OSF Healthcare System Annual Research Symposium, followed by a lecture and slideshow by members of the Lacks family, and a book signing.
Location: OSF Jump Center
Named by more than 60 critics as one of the best books of 2010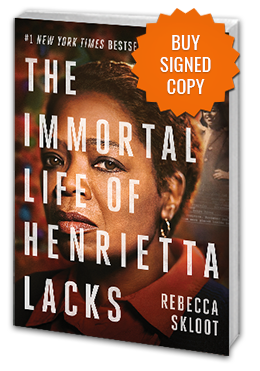 Buy the Book
Learn More
The Henrietta Lacks Foundation strives to provide financial assistance to needy individuals who have made important contributions to scientific research without their knowledge or consent.