Order an Autographed Copy
To purchase your autographed copy, please visit the Pegasus Books. Multiple copies available on request.
Autographed copies will be processed right away. Personalization is optional and may take longer due to Rebecca's travel schedule. Please allow extra time.
For personalized copies, indicate the name of the person you'd like the book inscribed to in the Comment Section of the order form; for instance, "For Jane Doe". Please limit your text to 10 words.
Named by more than 60 critics as one of the best books of 2010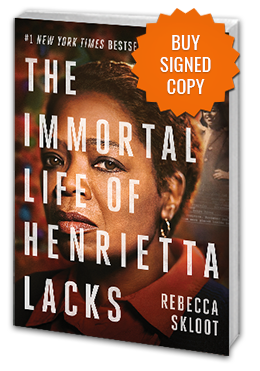 Buy the Book
Learn More
The Henrietta Lacks Foundation strives to provide financial assistance to needy individuals who have made important contributions to scientific research without their knowledge or consent.