About Rebecca
Rebecca Skloot is the author of the #1 New York Times Bestseller, The Immortal Life of Henrietta Lacks. Her award winning science writing has appeared in The New York Times Magazine; O, The Oprah Magazine; Discover; and many other publications. She specializes in narrative science writing and has explored a wide range of topics, including goldfish surgery, tissue ownership rights, race and medicine, food politics, and packs of wild dogs in Manhattan. She has worked as a correspondent for WNYC's Radiolab and PBS's Nova ScienceNOW. She and her father, Floyd Skloot, co-edited The Best American Science Writing 2011. You can read a selection of Rebecca Skloot's magazine writing on the Articles page of this site.
The Immortal Life of Henrietta Lacks, Skloot's debut book, took more than a decade to research and write, and instantly hit the New York Times best-seller list, where it has remained for more than seven years since its publication. She has been featured on numerous television shows, including CBS Sunday Morning, The Colbert Report, Fox Business News, and others, and was named One of Five Surprising Leaders of 2010 by the Washington Post. The Immortal Life was chosen as a best book of 2010 by more than 60 media outlets, including Entertainment Weekly, USA Today, O the Oprah Magazine, Los Angeles Times, National Public Radio, People Magazine, New York Times, and U.S. News and World Report; it was named The Best Book of 2010 and one of the 100 Books to Read In a Lifetime by Amazon.com, and a Barnes and Noble Discover Great New Writers Pick. It has won numerous awards, including the Chicago Tribune Heartland Prize for Nonfiction, the National Academies of Science Best Book of the Year award, the American Association for the Advancement of Science Best Young Adult Book award, the Wellcome Trust Book Prize, and two Goodreads Choice Awards for Best Nonfiction Book of the Year and Best Debut Author of the year. It has received widespread critical acclaim, with reviews appearing in The New Yorker, Washington Post, Science, and many others. Dwight Garner of the New York Times said, "I put down Rebecca Skloot's first book, "The Immortal Life of Henrietta Lacks," more than once. Ten times, probably. Once to poke the fire. Once to silence a pinging BlackBerry. And eight times to chase my wife and assorted visitors around the house, to tell them I was holding one of the most graceful and moving nonfiction books I've read in a very long time …It has brains and pacing and nerve and heart." See the press page of this site for more reactions to the book.
The Immortal Life has been translated into more than 25 languages. It is currently being made into an HBO movie starring Oprah Winfrey as Deborah Lacks and Rose Byrne as Rebecca Skloot and Renee Elise Goldsberry as Henrietta Lacks. More casting information available here, and on the film's IMDB page. Skloot is the founder and president of The Henrietta Lacks Foundation, which has been featured in the New York Times. She has a B.S. in biological sciences and an MFA in creative nonfiction. She financed her degrees by working in emergency rooms, neurology labs, veterinary morgues and martini bars. She has taught creative writing and science journalism at the University of Memphis, the University of Pittsburgh, and New York University. She currently gives talks on subjects ranging from bioethics to book proposals at conferences and universities nationwide.
Skloot lives in Chicago, where she is currently working on a new book about humans, animals, science, and ethics, a topic near and dear to her: before becoming a science writer, Skloot spent more than a decade working as a veterinary technician in settings ranging from animal shelters to private practices, veterinary schools and research labs. Those experiences, and the questions they prompted, are at the center of her next book, which you can read more about here and here. Skloot is also an avid knitter, a family tradition passed on from her mother, Betsy McCarthy, a professional knitter whose story was featured on Your Life Calling With Jane Pauley.
You can follow her on Twitter here, and Facebook here.
---
Articles About Rebecca
Rebecca Skloot has been interviewed and profiled by many leading publications, including the Wall Street Journal, the Los Angeles Times, and the New York Times. Skloot has also appeared on numerous radio and television shows, including Fresh Air with Terry Gross, Michael Feldman's Whad'Ya Know?, Fox Business News, and The Colbert Report. For many of those interviews and press coverage of The Immortal Life of Henrietta Lacks, visit the book's press page. Below, a selection of press coverage about Rebecca Skloot herself.
Named by more than 60 critics as one of the best books of 2010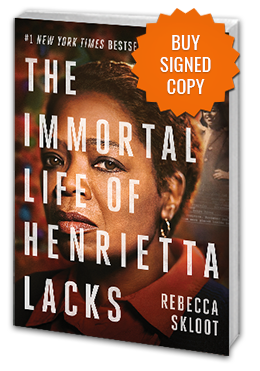 Buy the Book
Learn More
The Henrietta Lacks Foundation strives to provide financial assistance to needy individuals who have made important contributions to scientific research without their knowledge or consent.