FAQ
For Rebecca Skloot's answers to frequently asked questions about her book,The Immortal Life of Henrietta Lacks, check out the numerous radio and television interviews available on the Press coverage page of this site.
Here you will find a list of the most commonly asked questions and answers about writing, the Lacks family, the science of HeLa cells, The Immortal Life, and more. Questions have been gathered into categories to make it easy for you to find the information you're looking for – see table of contents below. This page will be periodically updated with new reader questions and Rebecca Skloot's answers.
Have a Question? Use This Table of Contents to Help You Find the Answer:
About The Immortal Life of Henrietta Lacks:
The story of the HeLa cells is important for many of reasons: It's about race and class and science and ethics and the importance of access to education and health care, all of which are vital current issues. But one reason the story is important today is that we live in a time when medical research relies more and more on biological samples like Henrietta's cells. A lot of the ethical questions raised by Henrietta's story still haven't been addressed today: Should people have a right to control what's done with their tissues once they're removed from their bodies? And who, if anyone, should profit from those tissues? Henrietta's story is unusual in that her identity was eventually attached to her cells, so we know who she was. But there are human beings behind each of the billions of samples currently stored in tissue banks and research labs around the world. The majority of Americans have tissues on file being used in research somewhere, and most don't realize it. Those samples come from routine medical procedures, fetal genetic-disease screening, circumcisions, and much more, and they're very important for science—we rely on them for our most significant medical advances. No one wants that research to stop, but it's pretty clear that many people want to know when their tissues are being used in research, and when there's a potential for the results of such research to be used commercially. The story of Henrietta, her family, and the scientists involved put human faces on all of those issues, which can otherwise be pretty abstract.
I know many writers who've spent decades of their lives working on wonderful books that didn't take off for any number of reasons having nothing to do with the books themselves. There are so many factors in the publishing process that are out of the writer's control. I knew all that going in, but I always believed that the facts of this story are so incredible that if I could get them out to people, they would have the same reaction I did, which was "Oh, my God. I have to tell people about this." So on the one hand, I could have only dreamed that the book would be so widely received. But on the other hand, it doesn't surprise me that people are having such a strong reaction, because I had the same reaction myself when I first heard the story.
About The Lacks Family:
On Writing The Immortal Life of Henrietta Lacks:
Deborah always said she believed very strongly that it was important to tell what she called "the good and the bad" of the family story — the violence, the sexually transmitted diseases, the abuse, and everything else — because it's all part of the story of what happened when the world got Henrietta's cells and her family lost her as a mother. And of course, Henrietta's cancer was caused by one sexually transmitted disease (HPV), and made more aggressive by another (syphilis) — those details are an essential part of any story about the HeLa cells (see below for more information about why Henrietta's cells grew).
On The Science of HeLa Cells, Tissue Research, and Ethics:
Not at all. I came to this book as a big believer in science and I remain that to this day. I think it's essential that science not be done at the cost of research subjects, and I think it's essential that researchers get informed consent for all of their work, but I believed that going into this book, so that didn't change.
On Writing and Publishing:
For Students and Educators:
Public Speaking and Lectures:
Questions About Rebecca
Named by more than 60 critics as one of the best books of 2010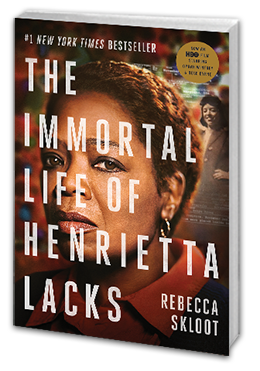 Buy the Book
Learn More
The Henrietta Lacks Foundation strives to provide financial assistance to needy individuals who have made important contributions to scientific research without their knowledge or consent.