Archives by Date:
Archives by Subject:
December 31, 2015
Controversial New Regulations Proposed to Require Consent for All Tissue Research. Rebecca Skloot's new OpEd Urges Action
Your cells and genetic information can be used in research without your knowledge — this happens all the time. It leads to important medical advances we all want to benefit from, but should scientists have to ask your permission first? The federal government has proposed controversial changes to the rules governing tissue research, which would — for the first time — require consent for research on all blood and tissues you leave behind after a visit to the doctor. This could all change (or fizzle) depending on what happens during the current public comment period. Most people don't know this is happening, or that policymakers are required to give them a voice in how this turns out. So far, the public isn't involved in this conversation, and Rebecca hears from many of you that you want to be. So now's your chance … BUT ONLY IF YOU COMMENT BY JAN 6th. To learn about these proposed changes, and how they relate to the story of Henrietta Lacks, read Rebecca's New York Times OpEd, "Your Cells. Their Research. Your Permission?" and take action by Jan 6th.
For more information about the current regulations that would be changing under this new proposal, their history and the long debate surrounding the use of tissues in research without consent, see "Taking The Least of You," an article Rebecca wrote for the New York Times in 2006.
Named by more than 60 critics as one of the best books of 2010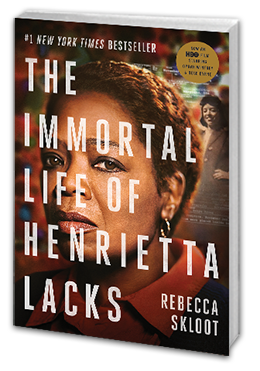 Buy the Book
Learn More
The Henrietta Lacks Foundation strives to provide financial assistance to needy individuals who have made important contributions to scientific research without their knowledge or consent.