Archives by Date:
Archives by Subject:
August 29, 2011
NPR's Talk of the Nation Interviews Rebecca Skloot about 'Common Reads' College Programs and The Immortal Life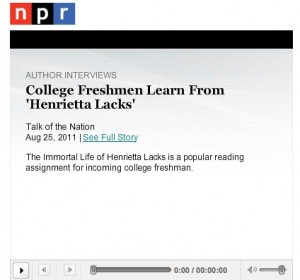 NPR reports, "In recent years, a growing number of colleges have begun assigning "common reads," books that all first year students read over the summer, and then discuss during their first week of school. Author Rebecca Skloot's book, The Immortal Life of Henrietta Lacks, is one of the most talked about books of 2010. It has since become a popular 2011 freshman common read."
"There really isn't any department within a university that can't find something specific in the book that relates to it," Rebecca Skloot pointed out in the NPR interview, "whether it's law, women's studies — it really does cross all of the different boundaries. And one of the things that I hear over and over from students and from teachers is not that it just touches all the disciplines, but it touches every student personally.
Because there isn't a single person out there that hasn't benefitted personally from these cells, whether it's because they got the polio vaccine, or someone that they love survived cancer by being treated with a drug made using HeLa cells, or because they were conceived through [in vitro fertilization], which HeLa cells helped develop in the beginning…And there's always a point in reading the book when a student realizes that. They sort of turn a page and go, 'Oh, wait — that's me! My mom took that drug.' And I think that's part of what helps to sort of bring it to life within the classroom."
Read a synopsis of NPR's interview with Rebecca Skloot.
Listen to the podcast of NPR's interview with Rebecca Skloot.
Named by more than 60 critics as one of the best books of 2010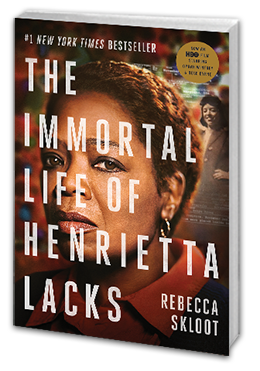 Buy the Book
Learn More
The Henrietta Lacks Foundation strives to provide financial assistance to needy individuals who have made important contributions to scientific research without their knowledge or consent.