Archives by Date:
Archives by Subject:
July 14, 2011
State Historical Highway Marker Honoring Henrietta Lacks To Be Dedicated
A new state historical highway marker honoring Henrietta Lacks will be dedicated by the Virginia Department of Historic Resources on July 29, at 11 a.m., near her childhood home in Clover, a rural community in Halifax County. The dedication ceremony will be at St. Matthew Baptist Church in Clover. The Honorable William A. Hazel Jr., Virginia Secretary of Health and Human Resources, will provide keynote remarks.
RICHMOND, VA – An historical highway marker honoring Henrietta Lacks, an African-American woman whose legacy to medical science was the first line of "immortal" human cells, will be dedicated by the Virginia Department of Historic Resources later this month near her childhood home in Clover, a rural community in Halifax County.

Lacks, born in Roanoke in 1920, was living in Baltimore, Maryland in 1951 when a tissue sample from a cervical tumor she had was removed, without her knowledge or consent, for medical research by a doctor at Johns Hopkins Hospital. Once cultured in the laboratory, her cells astonished scientists by their unique ability to survive and reproduce, eventually leading to major advances in medicine during the last 60 years through research made possible by the "HeLa" line, "the 'gold standard' of cell lines," as the new
highway marker reads.

The "Henrietta Lacks" marker will be dedicated at 11 a.m., on Friday, July 29, at St. Matthew Baptist Church, located at 1164 Clover Road, in Clover. Virginia Secretary of Health and Human Resources Bill Hazel will provide keynote remarks during the ceremony. Others participating in the event will be Kathleen S. Kilpatrick, director of the Virginia Department of Historic Resources; Clarice Buster, of the NAACP, Halifax County Chapter; Rev. Frank E. Coleman, pastor of the First Baptist Church in South Boston, and Rev. Alfred L. Chandler of St. Matthew Baptist Church, which is hosting the event.

Guests of honor at the ceremony will include some of Henrietta Lacks' children and grandchildren from Baltimore and elsewhere in the country. A public reception in the church's fellowship hall will be hosted by the Department of Historic Resources after the ceremony.

Since 1951, the year Lacks died of cancer, HeLa cells have been crucial to important research resulting in "the polio vaccine, chemotherapy, cloning, gene mapping, [and] in vitro fertilization," writes Rebecca Skloot, author of "The Immortal Life of Henrietta Lacks," a book published in 2010.

The extent of their use in medical research is indicated by Skloot, who writes in summarizing the calculations of one scientist, that "if you could lay all HeLa cells ever grown end-to-end, they'd wrap around the Earth at least three times, spanning more than 350 million feet."

Although HeLa cells are responsible for great advances in medicine, the taking of the original tissue sample without Lacks' consent — during an era of Jim Crow segregation when medical experimentation on African Americans was covertly practiced — and subsequent developments raise important ethical issues. For instance, while many have profited from the multi-million dollar industry resulting from the packaging and sale of the HeLa cells, Henrietta's family members never benefitted financially from them.

Skloot's critically-acclaimed book chronicles the Lacks family's difficult and painful struggle to learn more about the cells after being informed in the 1970s of the HeLa line's existence, 20 years after Henrietta's death. At the heart of that story are many legal and ethical questions of growing importance today concerning what rights we have as individuals over our own biological material.

"The story of Henrietta Lacks and the development of the first 'immortal' cell line encapsulates so many issues," said Secretary Hazel. "It touches race, education, poverty, and medical ethics, and demonstrates not only how much progress has been made but how difficult these questions are. The good news here is that her unknowing contribution has helped many people around the world," he added.

The Henrietta Lacks marker was approved by the Virginia Department of Historic Resources at its September 2010 board meeting. It was sponsored by the department as part of a decade-long program to create and encourage new markers that highlight important events, people, and places in the history of African Americans, women, and Virginia Indians that have contributed to Virginia and the nation's history.

"The Lacks Family thanks the Virginia Department of Historic Resources and all who took part in creating the historical highway marker to honor Henrietta Lacks," said Jeri Lacks Whye, on behalf of the family. "This marker will be another outlet for educating people about a phenomenal African American woman who touches the lives of many in astonishing ways," added Whye, who is the daughter of Henrietta Lack's son, Sonny Lacks.

Virginia's historical highway marker program, which began in 1927 with the installation of the first markers along U.S. Route 1, is considered the oldest such program in the nation. Currently there are more than 2,200 official state markers, most of which are maintained by the Virginia Department of Transportation, a key partner with the Department of Historic Resources in the historical marker program.

Marker Text:

Henrietta Lacks (1920-1951)
Born in Roanoke on 1 Aug. 1920, Henrietta Pleasant lived here with relatives after her mother's 1924 death. She married David Lacks in 1941 and, like many other African Americans, moved to Baltimore, Md. for wartime employment. She died of cervical cancer on 4 Oct. 1951. Cell tissue was removed without permission (as usual then) for medical research. Her cells multiplied and survived at an extraordinarily high rate, and are renowned worldwide as the "HeLa line," the "gold standard" of cell lines. Jonas Salk developed his polio vaccine with them. Henrietta Lacks, who in death saved countless lives, is buried nearby.

For a PDF of this press release, visit the Virginia Department of Human Resources website.
Named by more than 60 critics as one of the best books of 2010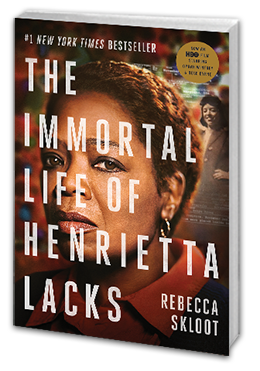 Buy the Book
Learn More
The Henrietta Lacks Foundation strives to provide financial assistance to needy individuals who have made important contributions to scientific research without their knowledge or consent.