Archives by Date:
Archives by Subject:
June 15, 2011
Students Respond to The Immortal Life in AAC&U Magazine
"Unlike the stereotypical reading assignment that too often catalyzes students to bond over mutual dislike," writes Connecticut College student Jesse Neikrie in the Association of American Colleges and Universities magazine, "[The Immortal Life] appealed to people with diverse interests, including literature, science, history, philosophy, psychology, sociology, anthropology, medicine, and social justice."
As Morgane Amat, a French-born first-year physics major and potential art and math double minor, explained, 'I liked the biographical components combined with the scientific knowledge.' Opinions about the book were as diverse as the first-year class, who used it as a tool to get to know each other. Inside and outside of classes as well as in student-and faculty-run discussions, which took place almost every other week during the first semester, students gathered to discuss the topics and dilemmas the book posed.
 
It has been more than six months since I first heard the name Henrietta Lacks. The person behind the name has now taken shape in my mind. Henrietta was a woman, a mother, a wife, and a cancer patient–in short, a human being who is too often remembered, if at all, as nothing more than an acronym. She is the source of the precious HeLa cells that defined modern medicine, an unsung hero who did not volunteer for the job. And now she is also at the heart of the introduction to my first year in college. Through Rebecca Skloot's book, Henrietta Lacks has set a very high standard for what I hope my college experience will be like. So far, I have not been disappointed. My classmates and I will never forget the life, death and incredibly busy afterlife of Henrietta Lacks and her unique cells.
Learn about other community reads and FYE programs that are reading The Immortal Life.
Named by more than 60 critics as one of the best books of 2010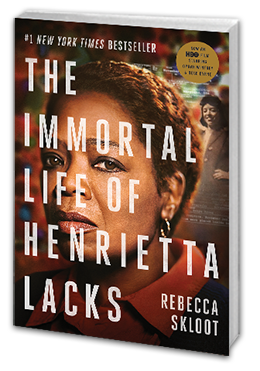 Buy the Book
Learn More
The Henrietta Lacks Foundation strives to provide financial assistance to needy individuals who have made important contributions to scientific research without their knowledge or consent.