Archives by Date:
Archives by Subject:
June 16, 2011
Connecticut College Student Praises The Immortal Life
"If there ever was a piece of scholarship that encapsulated the interdisciplinary ideals and methods of American Studies," writes Connecticut College student Claire Cafritz, "Rebecca Skloot's book The Immortal Life of Henrietta Lacks would be it."
The poignant story of Henrietta Lacks, an African-American woman whose cervical cells created the first immortal cell line, provides a revealing account of the ways in which prevailing issues of race and class have shaped, and continue to influence, the various institutions that govern American society. Skloot's efforts to reveal the human story behind one of the most significant discoveries in the history of medicine provides invaluable insight into many of the issues and disciplines that are integral to understanding American studies.
Learn about other community reads and FYE programs that are reading The Immortal Life.
Named by more than 60 critics as one of the best books of 2010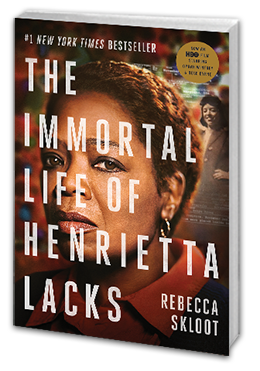 Buy the Book
Learn More
The Henrietta Lacks Foundation strives to provide financial assistance to needy individuals who have made important contributions to scientific research without their knowledge or consent.