Archives by Date:
Archives by Subject:
May 26, 2011
The Immortal Life Wins 2011 Audie Award for Best Non-Fiction Audiobook
The Immortal Life of Henrietta Lacks has won the Audie Award for Best Non-Fiction Audiobook of 2011 (Random House Audio, unabridged, read by Cassandra Campbell and Bahni Turpin). The Audie Awards recognize distinction in audiobooks and spoken word entertainment, sponsored by the Audio Publishers Association (APA).
This multifaceted story interweaves a mini-biography of Henrietta Lacks and her family with an insider's look at the history of medical research and Skloot's journey to unlock the secrets of both. Lacks was a terminal cancer patient, and the cells doctors preserved (without her knowledge or consent) led to many medical breakthroughs. Interestingly, Caucasian Cassandra Campbell admirably portrays African-American Lacks and her associates, while only the small part of Lacks's daughter is assigned to fellow African-American Bahni Turpin. The fine narration underscores the pain and frustration her family feels after Lacks' death, the purloining of her cells, and the world's failure to recognize her role. However difficult it is to acknowledge unscrupulous medical experimentation, Campbell's star quality rivets listeners to this tribute to one whose life continues to improve health care worldwide.
Named by more than 60 critics as one of the best books of 2010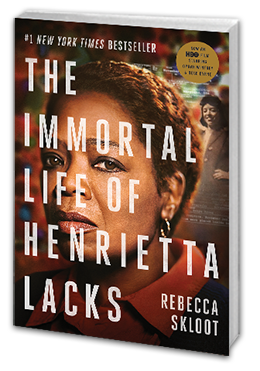 Buy the Book
Learn More
The Henrietta Lacks Foundation strives to provide financial assistance to needy individuals who have made important contributions to scientific research without their knowledge or consent.