Archives by Date:
Archives by Subject:
May 9, 2011
The Immortal Life "as Vigorous as the Cells Themselves" Says Florida Times-Union
"If you have read and enjoyed Siddhartha Mukherjee's impressive The Emperor of Maladies, a Biography of Cancer," says book reviewer Mims Cushing, "you will find Rebecca Skloot's The Immortal Life of Henrietta Lacks a worthy companion." What follows is a rave review of The Immortal Life in the Florida Times-Union:
Skloot deftly switches from writing about the scientific angle of the story to the woman herself. Although she's known for her scientific writing, she delivers far more than an objective, technical treatise here. . . .Cancer has smacked most of us in the face, whether it be a friend, family member or ourselves. An eye-opening look at the disease, this book is as vigorous as the cells themselves.
Named by more than 60 critics as one of the best books of 2010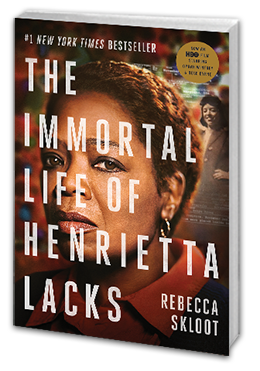 Buy the Book
Learn More
The Henrietta Lacks Foundation strives to provide financial assistance to needy individuals who have made important contributions to scientific research without their knowledge or consent.