Archives by Date:
Archives by Subject:
March 2, 2011
The Immortal Life of Henrietta Lacks Takes Home Second Place Honors at B&N Discovery Prize
March 2, 2011: Barnes & Noble selects The Immortal Life of Henrietta Lacks as the second place winner in the 2010 Discover Awards.
NEW YORK–(BUSINESS WIRE)–Barnes & Noble Inc., the world's largest bookseller, today announced that Canadian Kim Echlin's nostalgic novel of a cross-cultural love story, The Disappeared (Black Cat), and attorney David R. Dow's spellbinding account of his efforts to defend the seemingly indefensible, The Autobiography of an Execution (Twelve), have been named the winners of the 2010 Discover Awards for fiction and nonfiction, respectively [ . . . ] Eric Puchner's darkly hilarious novel, Model Home (Scribner), set in Southern California, and Rebecca Skloot's fascinating history behind the HeLa cells, The Immortal Life of Henrietta Lacks (Crown), took second place honors
Named by more than 60 critics as one of the best books of 2010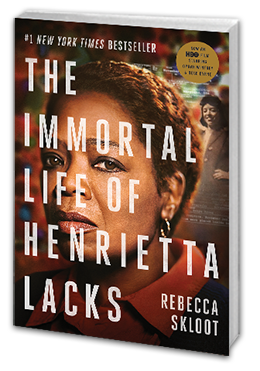 Buy the Book
Learn More
The Henrietta Lacks Foundation strives to provide financial assistance to needy individuals who have made important contributions to scientific research without their knowledge or consent.