Archives by Date:
Archives by Subject:
March 28, 2011
The Immortal Life Called a 'Riveting Book' and an 'Amazing Feat'
In Colette Bancroft's recent profile of Rebecca Skloot in the St. Petersburg Times, Rebecca describes the Immortal Book Tour: "I left my house on Jan. 29, 2010, and I'm still going."
Rebecca describes the journey that took her from writing a paper in a creative writing class at CSU to bringing the story of Henrietta Lacks to the world: "I wanted to show that there are human beings behind every sample," Rebecca says, "but there is a human being behind every scientist, too."
What Skloot, 38, does in her riveting book is an amazing feat in itself. She tells the complex scientific side of the story with clarity and confidence, and she tells the moving human story of Henrietta and the family she left behind — a family the author grew close to — and the scientists who developed the HeLa cell lines with compassion and respect.
Named by more than 60 critics as one of the best books of 2010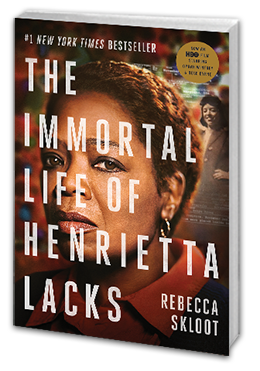 Buy the Book
Learn More
The Henrietta Lacks Foundation strives to provide financial assistance to needy individuals who have made important contributions to scientific research without their knowledge or consent.