Archives by Date:
Archives by Subject:
March 4, 2011
Scientists! Do you work with, study, or have thoughts about HeLa cells? What understanding do you most want the non-scientific community to come away with after having read The Immortal Life? Share your story.
After Rebecca Skloot's book about Henrietta Lacks was first published in spring 2010, scientists and science writers of all disciplines praised the book for the quality of its research, its reportage, the ethical arguments it raised, and for the compelling way in which it brought to light the very human story of cells that most knew only by four letters—HeLa.
Here are some of the things scientists have said about The Immortal Life of Henrietta Lacks. If you have used HeLa cells in the course of your professional or academic career and have read the book, please add your thoughts in the comments thread below. Tell us about the research you've done using HeLa cells—how has HeLa contributed to your science? What have you learned from them? This is a forum for scientists to share their thoughts and their own HeLa research with each other and the general public. It's also a place for readers to post questions for scientists about HeLa cells. If you would like to submit a video testimonial, or footage of your research, please email us at lisa@rebeccaskloot.com.
"I would like to say a big thank you to Rebecca Skloot for giving Henrietta Lacks the recognition she deserves in the world outside of the scientific community. Her story demonstrates so clearly how one person can make an immeasurable difference to the whole world, irrespective of their age, race, religion, education or social standing.

Having worked in clinical research, where ethics are such an integral part of a study, I was horrified at the lack of control over research that existed previously. I am truly grateful that we live in more enlightened times, where the subject's wellbeing is paramount.

My heart goes out to the Lacks family, whose emotional turmoil has been so compassionately described. I cried for Deborah, my heart ached at the descriptions of Henrietta's last few months of life.

I think back to the vaccinations I have had during my life, having never previously thought of how those drugs were developed and tested. I think by now, all of us have likely had some medical treatment that has been influenced by HeLa, and it is a humbling thought. I am just one person, my name just letters on a page … but without Henrietta Lacks and others like her, who knows if I would still be alive now to write this?

One of the most thought-provoking books I have ever read, I would like to thanks the Lacks family for sharing Henrietta with us, willingly this time."– Renata Davies, Radiographer, UK
"Working as a research assistant at the University of Chicago, I worked with HeLa cells as part of the early research of the role of T-cells in HIV. [I was told they were cells from a woman named Helen Lane and the cells were unique because they were, essentially, immortal]. It never occurred to me that the cells might not have been given voluntarily.

Later, as a pathologist at the University of California, I collected, sliced and diagnosed thousands of specimens each week – and I often wondered how they were disposed of or stored after we had what we needed from them from a clinical and research standpoint.

Currently I work in drug and vaccine development – and I follow very strict legal, ethical and company guidelines for each and every patient interaction/specimen. International ethical and Human Subject Protection guidance's (including the Nuremberg Code, the Geneva Convention, the Helsinki Declaration, etc.) and the HIPPA law have significantly shaped and influenced my understanding of the complex issues involved in research that involves any aspect of human participation.

Your book (in addition to being a moving story of a family treated poorly by science, educators, medicine and the government) not only provided me with deeper insight into how we got into the mess we are in, but also gave me an understanding of several surrounding issues which are not commonly known or discussed.

I am still not sure how academia handles patient specimens which are not specifically collected for research purposes; in addition, I am sure there are many other specimen-storage aspects about my current work in development of which I am unaware. However, now I am significantly less comfortable with this fact than I was before reading your book. Let's hope your book continues to make more doctors and scientists uncomfortable with the status quo. Therein lies the path towards progress." – Jessica Eisner
31 Responses to "Scientists! Do you work with, study, or have thoughts about HeLa cells? What understanding do you most want the non-scientific community to come away with after having read The Immortal Life? Share your story."
Named by more than 60 critics as one of the best books of 2010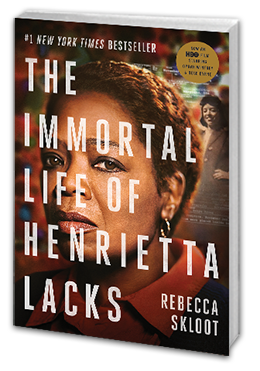 Buy the Book
Learn More
The Henrietta Lacks Foundation strives to provide financial assistance to needy individuals who have made important contributions to scientific research without their knowledge or consent.