Archives by Date:
Archives by Subject:
March 4, 2011
Book Groups! Have you discussed The Immortal Life? What's the issue that got you talking the most? Share your story.
If your book group is reading The Immortal Life of Henrietta Lacks, we'd like to hear about it. Tell us about your experiences with the book—both as a group and as individual readers. What surprised you about it? What was most unexpected? What parts of Henrietta's story stayed with you the longest? What topics did your group spend the most time discussing? Was there any controversy? Do you have any suggestions for other book groups? Do have any questions you'd like to ask the author that aren't already answered on her FAQ page?
Here are some posts other book groups have made about The Immortal Life of Henrietta Lacks. Please add your thoughts in the comments thread below. If you'd like to submit a video testimonial, email us at lisa@rebeccaskloot.com.
"We read and thoroughly enjoyed learning about the remarkable contribution this woman has made to our collective scientific advancement. At the end of our book discussion this week, we passed the hat. It is disgraceful that Mrs. Lacks' family is so impoverished while others are making million from her tissue cells. We hope the next generation of Lackses fares better than her children. Kudos to Rebecca Skloot for telling this extraordinary story to the world." – The Rhode Island Book Club
"I am a stay-at-home mom in a book club with other stay-at-home moms, and The Immortal Life of Henrietta Lacks was this month's book selection. I will admit, I was more than a bit leery about reading a nonfiction/science book for "fun" but within the first chapter all those nerves were put at ease. You are an amazing author with the ability to make very difficult subject matter not at all hard to read about. I laughed, I cried, I was shocked – but most importantly, I was educated. Educated on the concept of cells (which sadly I had not retained from my old biology classes) on the history of the woman who gave our world the HeLa cell – even if the ethics of it are still in question. Thank you for sharing her story with us. I can not wait to sit with the other ladies in my book club and discuss this amazing book!" – Tara A. Bissett
52 Responses to "Book Groups! Have you discussed The Immortal Life? What's the issue that got you talking the most? Share your story."
Named by more than 60 critics as one of the best books of 2010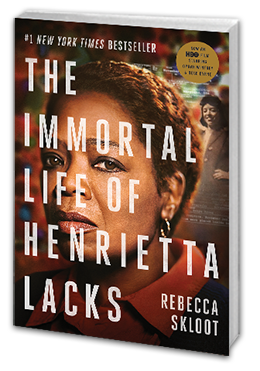 Buy the Book
Learn More
The Henrietta Lacks Foundation strives to provide financial assistance to needy individuals who have made important contributions to scientific research without their knowledge or consent.