Archives by Date:
Archives by Subject:
March 8, 2011
Missouri History Museum Hosts Three-Part Discussion of The Immortal Life of Henrietta Lacks
Today is the conclusion of a dynamic three-part discussion of The Immortal Life of Henrietta Lacks, hosted by Dr. Danielle N. Lee at the Missouri History Museum. Titled "Confronting Science: African American Perceptions of Science and Medical Research," the series provided attendees with a unique opportunity to engage the issues of ethics and accessibility presented in The Immortal Life.
Part 1, February 8 – Ethics: Issues presented in The Immortal Life provide an introduction to the history of ethics in science research in the U.S., as well as an invitation to explore people's prejudices and the perceptions of science, scientists, and the research community at-large.
Part 2, February 22 – Accessibility: The children and neighbors of Henrietta Lacks lacked access to quality long-term health care due not only to their economic situations but also to their poor comprehension of science and medical terminology. Such barriers to understanding still exist for many today, inviting a discussion on accessibility to science and health care – then and now.
Part 3, March 8 – Faith: Both Henrietta Lacks and her daughter, Deborah, were women of faith. Faith and religion have often been pitted against science. Moreover, faith plays a powerful role in health and healing within the African-American community, inviting an exploration of the role of faith for the subjects in the book, including the author.
Read more from Dr. Lee on her blog, Urban Science Adventures.
Named by more than 60 critics as one of the best books of 2010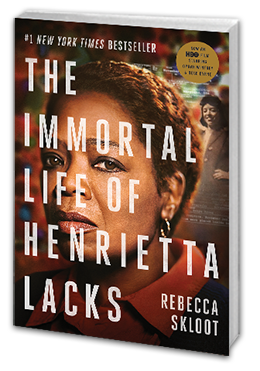 Buy the Book
Learn More
The Henrietta Lacks Foundation strives to provide financial assistance to needy individuals who have made important contributions to scientific research without their knowledge or consent.