Archives by Date:
Archives by Subject:
December 14, 2010
Washington Post Names Rebecca Skloot One of Five Surprising Leaders of 2010
The Washington Post named Rebecca Skloot as one of their Five Surprising Leaders of 2010, saying:
Prior to 2010, Rebecca Skloot was a little-known science writer. But with the publication of her first book in February, Skloot has hit the national scene with a graceful thud. In writing The Immortal Life of Henrietta Lacks, Skloot is welcomed to our short list of the year's great leaders. In her biography of the woman behind HeLa cells–those scientific wonders that have aided with the development of the polio vaccine, groundbreaking cancer research and advancements in in-vitro fertilization–Skloot tells a human story wrapped in racism, classism and hope.

While The Immortal Life of Henrietta Lacks may be regarded as one of the finest reads of 2010 (it's even being made into an HBO film by Oprah), Skloot herself shares an interesting story of persistence, compassion and dedication. Tinkering on the project for years after first being inspired in high school, Skloot never abandoned her goal of finishing the book. Often writing in solitude in a cabin in West Virginia, Skloot's efforts seem more akin to giving birth than simply putting pen to paper. And as if her persistent efforts to simply complete the project weren't enough, Skloot worked to establish a scholarship fund for Lacks's heirs, a testament to her compassion for the story she chronicled and the relationships she developed with the people she captured in print.
Named by more than 60 critics as one of the best books of 2010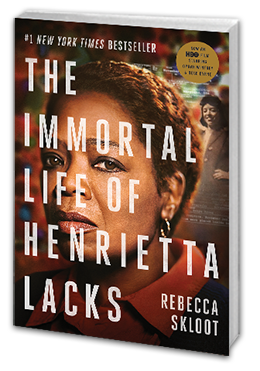 Buy the Book
Learn More
The Henrietta Lacks Foundation strives to provide financial assistance to needy individuals who have made important contributions to scientific research without their knowledge or consent.