Archives by Date:
Archives by Subject:
November 4, 2010
Immortal Life of Henrietta Lacks Chosen as Best Book of 2010 by Amazon.com
Very exciting news, just in:  Amazon has named The Immortal Life of Henrietta Lacks as the Best Book of 2010.  From their announcement:
Our Best of the Year lists are always the culmination of a year of eager book scouting, and then a few contentious weeks of nominating, discussing, rehashing, rereading, and sorting, and this year is no different, although, like last year, our #1 pick made itself pretty plain, and left us extra time to debate the other 99 spots on the Top 100. As soon as we read Rebecca Skloot's The Immortal Life of Henrietta Lacks, we thought it was pretty special. In just 300 pages (and in her first book), Skloot makes an incredibly difficult task seem simple: weaving together a story of science and history with a very personal account of a family who has not always wanted their story told. The book is full of surprise, incident, and character (not the least of which is Skloot herself, although her presence never overwhelms the story), the way good stories are, but it's also a story of ideas, which Skloot treats as subtly and even-handedly as she does the people she writes about. It's the rare sort of book that is ambitious and innovative, but that you could also give to any curious reader, and that's just the sort of book we love to put at the top of our list.
Please have a look at their full list of the top books of the year, and the many wonderful titles on it.  I'm honored that The Immortal Life is among them.
Named by more than 60 critics as one of the best books of 2010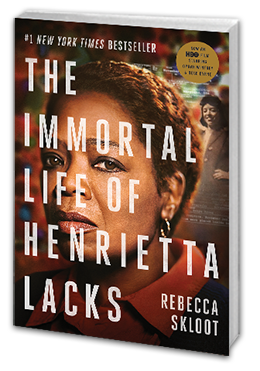 Buy the Book
Learn More
The Henrietta Lacks Foundation strives to provide financial assistance to needy individuals who have made important contributions to scientific research without their knowledge or consent.