Archives by Date:
Archives by Subject:
May 12, 2010
Oprah and Alan Ball to Make Film of The Immortal Life of Henrietta Lacks for HBO
Very exciting news:  Oprah and Alan Ball have teamed up with HBO to create the film version of The Immortal Life of Henrietta Lacks.  Can you say, Dream Team??
… Ball, creator and exec producer of HBO's "True Blood," began pursuing the rights after he received a pre-publication copy last November while on a material-scouting mission in Gotham with his producing partner, Peter Macdissi.

"I fell in love with it," Ball said. "I thought it would be a perfect movie for HBO."

Harpo Films topper Kate Forte also began chasing the rights in January after reading the book. Once Ball and Forte realized they were going after the same property and had a similar vision for turning it into an HBO movie, it was a no-brainer to join forces …

Ball and Forte were effusive about how Skloot's book easily lends itself to a screen adaptation. "It's an incredibly visually exciting story," Forte said. "The science of it all is told in an amazing way."

Forte noted that Winfrey read the book in one sitting. "She couldn't put it down," she said.

Ball couldn't say enough about how excited he is to work with Winfrey and Forte on such a significant project. "Immortal Life" is high on HBO Films' priority list, given the auspices.

"This is going to be a journey that we'll all remember for the rest of our lives," Ball predicted.
Full story online here.
Named by more than 60 critics as one of the best books of 2010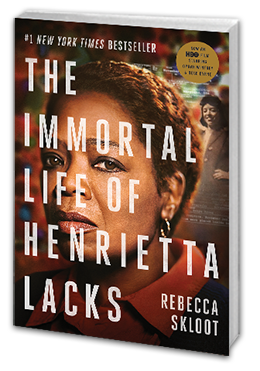 Buy the Book
Learn More
The Henrietta Lacks Foundation strives to provide financial assistance to needy individuals who have made important contributions to scientific research without their knowledge or consent.