Archives by Date:
Archives by Subject:
April 6, 2010
Immortal Life of Henrietta Lacks FAQ #2: Did Skloot really flunk high school?
I'm posting answers to FAQs about my book, The Immortal Life of Henrietta Lacks, as an ongoing series on this blog. In my last FAQ post, I told the story of how I first learned about HeLa cells at sixteen. A related question I often get has to do with this one sentence in the book's prologue:
"I was a kid who'd failed freshman year at the regular public high
school because she never showed up. I'd transferred to an alternative
school that offered dream studies instead of biology, so I was taking
Defler's class for high-school credit, which meant that I was sitting
in a college lecture hall at sixteen with words like mitosis and kinase inhibitors flying around. I was completely lost."

People say, WHAT?! You failed high school?!


I posted about this as part of a guest blogging stint at Powells recently: It's true. My freshman
year, I got less than a 1.0 grade point average because I was busy
wandering the aisles reading books at Powells, and hanging out with friends in
coffee shops and Forest Park. But mostly I was busy pretending to be a student at Metropolitan Learning Center
(aka: MLC). All of my friends went
to MLC, and I fit in better there than at my own school – MLC didn't give
grades, students got to design courses for themselves, teachers went by their
first names, we sat on the floor instead of lined up in desks, and we read
books like Howard Zinn's A People's History of
the United States instead of a traditional history books. The only
problem was, I didn't get credit for classes at MLC freshman year, because I
wasn't enrolled there.
After failing my first year, I officially transferred to MLC
and started designing a curriculum for myself. Since I knew without a
doubt that I was going to be a veterinarian when I grew up (so much for certainty),
I arranged to take some pre-vet courses at the local community college
for high school credit, to help make up for the credits I'd missed my
first year. So really, the whole reason I learned about Henrietta and the
HeLa cells in the first place was that I'd flunked my first year of
high school and was lucky enough to find an alternative school that
gave me the freedom to follow my curiosity wherever it took me.
17 Responses to "Immortal Life of Henrietta Lacks FAQ #2: Did Skloot really flunk high school?"
Named by more than 60 critics as one of the best books of 2010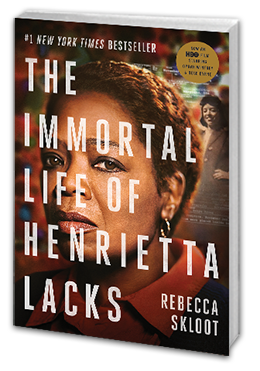 Buy the Book
Learn More
The Henrietta Lacks Foundation strives to provide financial assistance to needy individuals who have made important contributions to scientific research without their knowledge or consent.